2019 Grasshopper Entrepreneur Scholarship
Enter for the Chance to Win a $5,000 Scholarship.
Founded by two entrepreneurs, Grasshopper has been making it easier to start and grow a small business since 2003. Back then, we started as just two guys with a dream and to date have served over 300,000 entrepreneurs (and we're still growing).
Today, as a part of LogMeIn, our commitment to helping entrepreneurs is stronger than ever. To that end we are proud to partner with our corporate social responsibility program, Mission Possible, to introduce the 6th annual Grasshopper Entrepreneur Scholarship.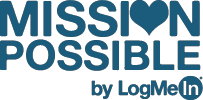 Scholarship Award
Grasshopper will award one (1) $5,000 scholarship for the best submitted entry determined by our judges. The scholarship will be awarded in check form, made payable directly to the university that the winner is, or will be, attending for a school term in 2019.
Scholarship Deadline
Applications open on April 8th, 2019 and the deadline to enter is August 30th, 2019.
Eligibility Requirements
Any current college student or incoming freshman enrolled in an undergraduate or graduate degree program in a Spring, Summer, or Fall 2019 semester. Student must be enrolled at an accredited American college, university or trade school.
Essay Topic
How is social responsibility important to you as an entrepreneur? How does it play a role in your company's (or future company's) mission?
Tips for Scholarship Submission Success
1. You should double check for typos and grammatical errors. Remember, not everything will be underlined in red!
2. Your essay should stay on the topic provided. Other topics will not be considered.
3. Use real life examples if you have them. We'd love to hear how this has impacted you directly.
4. Your essay should be roughly 500 words.
Artificial Intelligence Scholarship
Are you a student interested in Artificial Intelligence? If so, visit the Bold360 Artificial Intelligence Scholarship to learn more about a $6,000 scholarship opportunity!
STEM Scholarship
Are you a student pursuing a college or graduate degree in a STEM field? If so, visit the LastPass STEM Scholarship to learn about and apply to this $12,000 opportunity.
Terms & Conditions
LogMeIn USA, Inc., on behalf of itself and its affiliates ("LogMeIn") is committed to protecting your privacy and providing a safe online experience. By using the Site, you consent to the collection, storage, use and disclosure of your personal information as described in the LogMeIn Terms and Conditions. If you do not agree to these practices listed in the Terms and Conditions and Privacy Policy, please do not use the Site.
The Grasshopper Entrepreneur Scholarship Program ("the Scholarship") is open only to students entering or currently attending a college or university located in one of the fifty (50) United States (including the District of Columbia). Employees of LogMeIn USA, Inc., and/or its affiliates, as well as the immediate family and household members of each employee are not eligible to apply to the Scholarship. Your application to the Scholarship constitutes your full and unconditional agreement to and acceptance of these Terms and Conditions.
By submitting an entry to the Scholarship, you transfer all rights and ownership of submitted content to LogMeIn, regardless of whether your entry is selected as a winner. LogMeIn reserves the right to publish submitted work at the conclusion of the entry period in any manner LogMeIn deems appropriate.
No purchase necessary for entry or winning.
Selection of the winning submission is entirely at the discretion of LogMeIn. The winner will be contacted by LogMeIn via the email address used for submission. The winner will be confirmed ONLY after providing proof of enrollment in the form of a copy of a tuition bill OR letter of proof from the accredited United States college, university, or trade school at which the winner is enrolled. Upon confirmation of enrollment, the winner will be publicly announced on October 15, 2019, and LogMeIn will mail a check to the University on behalf of the winner for tuition and will mail a gift card to you for books and school supplies. In the event a winner cannot prove enrollment at a college, university, or trade school, LogMeIn will choose a secondary winner. LogMeIn's decisions with respect to its selection of a winner are final and binding. LogMeIn is not responsible and cannot provide you with financial advice on taxation matters. LogMeIn is not responsible for changing and notifying you of, nor paying any taxation obligations. Any tax liability associated with the receipt or use of the Scholarship funds are the sole responsibility of the winner. Winning a prize is contingent upon fulfilling all requirements set forth herein.