Cool Customers
Customers we love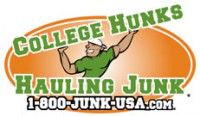 Junk Hunks in the Driver's Seat
The equation was simple but perfect. Add two idle college students at home for the summer, plus one beat up moving van, then factor in one very insistent mother. The solution? A company started on a lark that's grown into a multi-million dollar junk hauling franchise, with friends Omar Soliman and Nick Freidman in the driver's seat.
Back in 2003, childhood buddies Soliman and Friedman were home from college for the summer and trying to rustle up some work. It was right before their senior year in college; Soliman was at University of Miami and Friedman was attending Pomona College. Soliman's mother, who owned a furniture store in the Washington, DC area, suggested he use her moving van to do odd jobs. It sounded good to the boys, who playfully called themselves College Hunks Hauling Junk. Fliers plastered on street corners resulted in enough calls to generate a fast $15,000 in cash, but the demand for their services didn't end with the summer. "I was in class a month later, and I'd still get calls on my cell phone," says Soliman. It struck him that his little company might actually be a bona fide business. So he entered College Hunks' business plan in UMiami's Leigh Rothschild Entrepreneurship Competition; he won, and pocketed a $10,000 prize.
Still, the once and future partners resisted the lure of entrepreneurship; after graduation, they settled into corporate jobs back in D.C. But within six months, they admitted to one another that they were miserable, so they quit their jobs and committed to starting a company together. They had a clear idea of their competitive advantage: the moving industry was fragmented, unprofessional, and for the most part unbranded. They would ratchet things up a notch by hiring clean-cut college students, dressing them in khakis and polo shirts, and pledging to recycle 60-70% of everything they hauled. They financed the operation with Soliman's business plan competition winnings, some family funds, and a line of credit of Bank of America. By the end of 2007, the company's second full year of business, College Hunks Hauling Junk posted $1.2 million in revenue and had a fleet of eight trucks in the Washington, DC area. And that's when the partners decided to take it up another notch.
Since the D.C. operation was so successful, why not replicate it nationwide by selling franchises? It was an ambitious plan, but the partners had enough cash to finance the expansion and to hire a 25-year veteran of the franchise trenches – George Palmer – to help them. They invested $40,000 in customized software, bought the phone number 1-800-junkusa for $13,000, and went about systematizing all of their procedures. They also moved their company to Tampa, FL, where the cost of setting up a national call center was considerably cheaper.
Today, College Hunks Hauling Junk has 20 franchisees, 14 employees, and revenues of $3.5 million for 2008. The company is also working with Oprah Winfrey to find – and clean up – the messiest houses in America. While the recession has had an impact on the company's average job size because "people aren't getting rid of as much stuff," Soliman says that "our booking percentage has been a lot higher than we expected – we're booking 50% of the calls that come in." He and Friedman are also git rolling a new division of the company called (wait for it) College Foxes Packing Boxes!
Have a great story to tell?
If you're one of the tens of thousands of entrepreneurs using Grasshopper to help grow your small business and have an interesting story, tell us!
Tell us your story »