All-New Click-to-Call Widget
Join Our Beta and Drive Inbound Sales Today
We at Grasshopper are happy to announce the launch of our click-to-call beta! Click-to-call is an easy way for prospects and existing customers to connect with your business over the phone directly from your website.
See what click-to-call can do to drive inbound sales and facilitate excellent customer support for your business.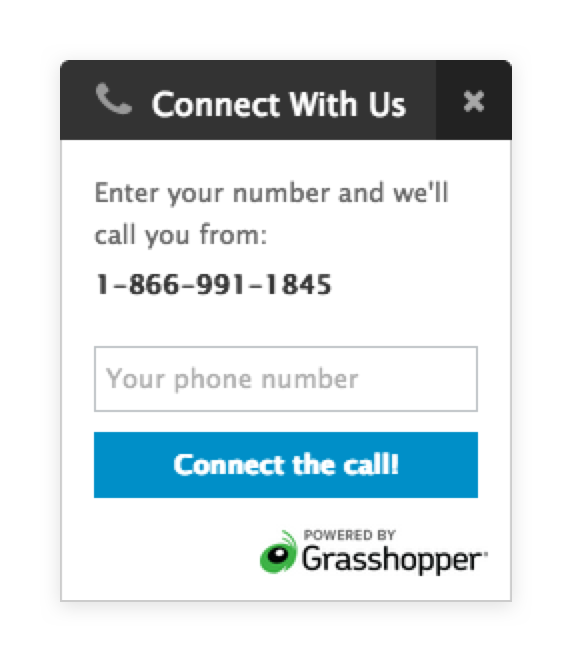 Our beta is available to all Grasshopper customers for free! Try it out today and send us your feedback.
Get the Beta »
What is Click-to-Call?
Click-to-call, also known as click-to-chat and click-to-talk, enables customers and prospects to connect with you directly via phone by either entering their phone number or clicking a button on your website. Click-to-call can be as simple as including your business phone number as a link, or it can appear as an eye-catching widget that floats on pages of your website.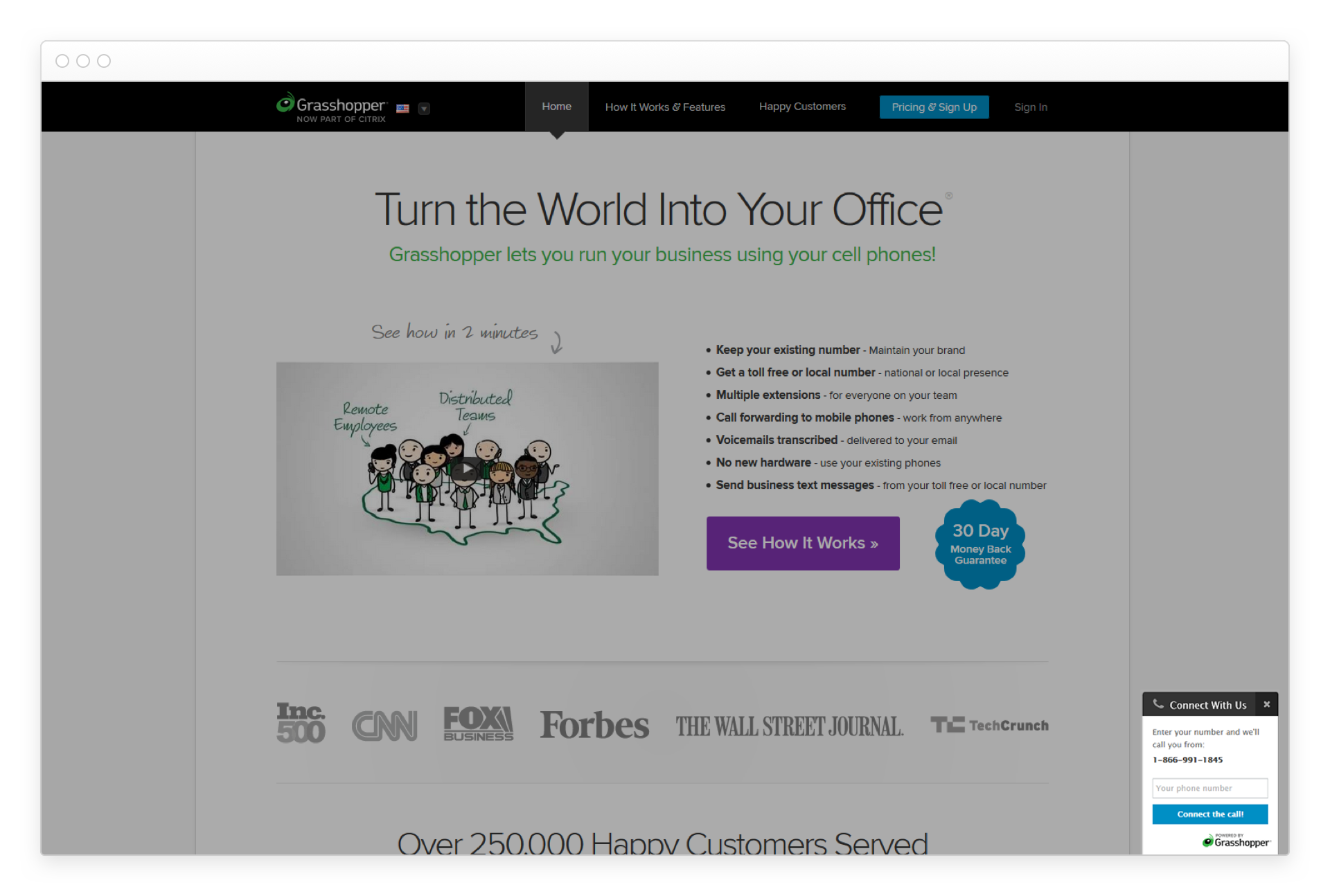 Benefits of Click-to-Call for Your Business
Connect with prospects in real time.

Click-to-call enables visitors on your site to connect with you over the phone as they are viewing your site. Having real conversations with prospects while your business is still top of mind is the most effective way to drive inbound sales.

The human touch.

Most customers prefer to have all of their questions and concerns answered by a live person before making a major purchase. Click-to-call allows your site's visitors to have their questions answered as soon as they come up, which will drive conversions and improve your professional image.

Unbeatable customer service.

Click-to-call is also a quick and easy way for existing customers to contact you with any support questions they have. Let's face it: happy customers are always good for your business!
Frequently Asked Questions
How do I install Grasshopper click-to-call on my site?

It's pretty simple. Once you request our click-to-call beta, we will send you the code for your web developers to copy and paste right into any page on your site and it will be up and running!

How does click-to-call work?

Once a number is entered in the widget and "connect the call!" is clicked, we'll initiate a call from your Grasshopper number to the phone number entered into the widget. Once the person at the other end answers the call, we'll then try to reach you.

If the caller doesn't answer, you'll still be able to see a record of this and the number they entered in your reports.

How are calls initiated using the widget tracked?

The calls will be tracked the same as any other Grasshopper call.

If you miss the call, the call will show up as a missed call in your reports and your caller will be sent to voicemail.

If you answer the call, it'll show in your call reports but will look a little differently than your regular incoming calls.

Note: Calls coming from the click-to-call widget won't be noted as a click-to-call call.

Want to learn more on how to leverage call tracking for your business? Start here!

What will my site visitors' experience be when using the widget?

When your site visitors click "Connect With Us" the window below will pop-up. Visitors will need to enter the phone number they want you to call them at and we'll initiate a call between the two numbers (your Grasshopper number and the number they entered.) It's that simple!
Not a Grasshopper customer? See what Grasshopper's advanced features can do for your business!
See How it Works »