Introducing Business SMS
Send professional texts from your business phone number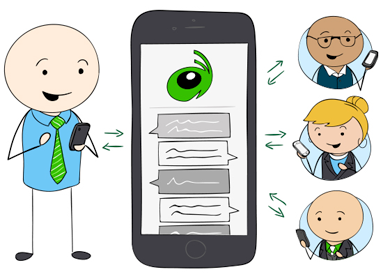 Texting for business? In today's on-the-go world, texting is often the fastest and most convenient way to communicate. That's why Grasshopper's business phone system now offers Business SMS on all business numbers.
Benefits of Business SMS
Communicate with clients & partners efficiently
Send quick updates and check-ins from the same toll free or local number that you make calls from
Get notified when your business number receives a new SMS message
Collaborate quickly without clogging up your email inbox
Unlimited texts
Grasshopper's Business SMS feature includes unlimited inbound and outbound text messages.
Send text messages anytime it's most convenient
Offer SMS support to customers
Chat with clients, partners, and colleagues without worrying about extra charge
Frequently asked questions
Is there a limit to how many texts I can send?
Nope. Business SMS includes unlimited text messages, so send away.
I'm already a Grasshopper customer ─ how can I add Business SMS to my Grasshopper number?
You can sign-up for Business SMS by logging into your account online and adding the feature. Or you can call the Grasshopper Care Team at (800) 279-1455.
I'm not a Grasshopper customer yet ─ how can I sign-up for Business SMS?
Once you choose a business number, you'll be prompted to check a box during the sign-up process to activate or deactivate Business SMS.
Can I add Business SMS to my toll free number?
You bet! Grasshopper now offers Business SMS on both toll free and local numbers.
Can I send texts internationally?
SMS messages can be sent to numbers in the U.S. and Canada.
Join the Conversation with Grasshopper
Over 300,000 Happy Customers Served
Here's what a few of them have to say about Grasshopper
I am now a huge fan of Grasshopper… truly saved the day (and my sanity). Carolyn Appleton Carolyn M. Appleton, Inc.
Having a phone number on our site increased conversion of site visitors to sign ups and paid users! Allan Branch LessAccounting