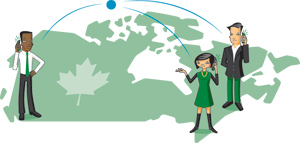 I am very pleased to announce to everyone that we plan on doing some great things with our number inventory after the New Year.  Some of these changes are already in progress and are taking place in our Number Porting Process.
What are these exciting changes?
Local Number Inventory Expansion including Canadian DIDs

Automation of Grasshopper Porting Process
We are in the process of finalizing a contract with a carrier that can issue us Canadian local numbers. Our goal is to have Canadian numbers available for the first of 2010. We will be getting in touch with our Canadian customers via email in an attempt to find out how many numbers and what areas they need the most so that we can order them accordingly.
We continue to expand our local coverage area based on the number of requests we get from our customers, so please don't hesitate to check for additional local numbers in your desired area using our Search Tool under the "Find a Local Number" section.
Did you know that you may also send us a number request with the city, state and area code for the desired location by creating a Support Ticket?
Please visit the Create a Ticket section or Grasshopper Support.  Representatives can take your order 24/7/365 toll free at 800-820-8210 and create a ticket for you if you let them know your criteria.
What will change with the Grasshopper Porting Process?
We all know that porting a number (local or toll free) from one carrier to another can be a long, nerve breaking process so we wanted to avoid any difficulties that you may face while using our tools to initiate the process.
In addition to automating our internal processes by improving our communication tools and how we transfer data among carriers, we will also be making our Number Transfer process much easier for our users.
We will be implementing a user friendly Number Transfer Tool that will walk you through with the step by step instructions.
I have been working on the requirements of this tool so I can easily say that it will be almost like a wizard with some very helpful tips/ information and will contain our online transfer forms.  I can't wait for you to start using it to port your numbers to Grasshopper.
We are very excited about the upcoming improvements and hope you are too!