It's not easy being the new startup on the block. Without product sales, a proven team or an impressive track record, fledgling companies begin to feel like the Rodney Dangerfield of the startup world - like they can't get any respect. Luckily, you don't need a meeting with Peter Thiel to get funding. If lack of reputation or credentials is holding you back, you can actually compete for funding in contests that allow promising startups to shine:
Y Combinator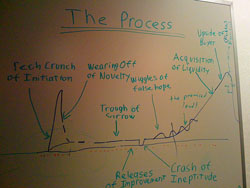 Y Combinator (run by popular startup essayist Paul Graham) is currently accepting applications for its summer 2011 funding round, which runs from June through August. Here's how it works: you fill out the application form, doing your best to emphasize the most promising aspects of your idea, the exact market needs it will serve and why you believe funding from YC will help. Startups deemed worthwhile get invited to invited to Mountain View for in-depth interviews.
These interviews decide which startup YC will fund. Want to increase your chances of being interviewed and selected? Read YC's elaborate guidelines which state exactly how you should organize your application and the kinds of information they want from startups who apply.
Technology Strategy Board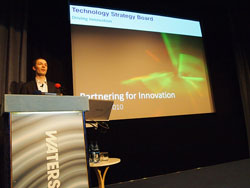 In April 2011, Wired News revealed a startup funding contest called Tech City Launchpad, organized and launched by UK-based Technology Strategy Board. Though the contest is aimed at bolstering the east London tech community, it is not limited to startups from that area. In total, one million euros are available as contest winnings for startups that apply:
'Companies are asked to submit a two minute video between 6 and 26 May, 2011. These will be assessed by community members and experts, who will whittle the entries down to around 20 projects. The companies responsible for those projects will then be informed of their success by the end of June and invited to submit written proposals for funding by mid-July 2011.'
From this process, ten companies will be selected to get up to £100,000 each in funding.
AWS Start-Up Challenge 2011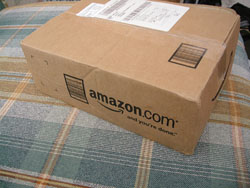 Does your startup utilize Amazon services (like S3) to bring value to users? If so, Amazon itself might be the best place to compete for funding. The AWS Start-Up Challenge, restricted to startups using Amazon services, awards $50,000 in cash to the winner as well as $50,000 in AWS service credits. Here's how 2010's winner (M-Dot Network) was chosen:
'During the final round of judging, seven finalists presented their businesses to representatives from AWS and leading venture capital firms. M-Dot Network was selected based on its implementation of AWS solutions, originality and creativity, likelihood of long-term success, and how well the business addresses a need in the marketplace.'
Fill out this form to be notified as soon as details about the 2011 AWS Start-Up Challenge are published.
Women 2.0 Startup Competition
Women-owned startups have unique opportunities for funding that are available solely to them. Take the Women 2.0 Startup Competition, for example. Open to startups with at least one female in the founding team, this contest offers a combination of cash, services and meetings with top investors as prizes to the winners. 'Previous years' prizes included meetings with Michael Moritz (Sequoia Capital) and Tim Draper (Draper Fisher Jurvetson)', according to the contest website.
Entering is simple: fill out a one-page application, mail in your napkin business plan (literally), film a 2-minute pitch video and mail it all in by the application deadline. Then hope to be one of the finalists. 2011's contest will be the fifth annual event - refer back to this page for eligibility requirements and entry details.
Accelerate Michigan Innovation Competition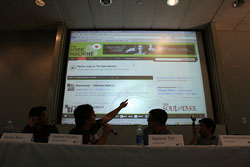 Called the 'world's largest startup competition' by Reuters, the Accelerate Michigan Innovation Competition is raising the bar on funding contests:
'The proliferation of startup incubator or accelerator programs has made it tough for most to stand out among the crowd. So the way the Accelerate Michigan Innovation Competition chose to do it, is by offering what it claims is the "world's largest" cash award – $500,000 – to the winning business pitch.'
The one caveat? The winner has to set up shop in Michigan in order to claim the exorbitant cash prize. There is also a rather strict criteria for which startups can join: you can't have raised more than $1 million in funding already, you can't exceed $1 million in annual revenue already, must address a market size 'of at least $500 million' and have the chance to hit $20 million in yearly revenue within five years.
Business Plan Contests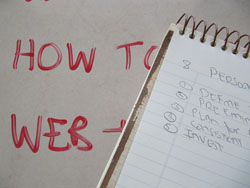 If you've missed application deadlines for big-name funding competitions, don't worry. No matter what time of year it is, there are virtually always business plan writing competitions to enter. As the name implies, these contests have nothing to do with your team, current progress or technical background. Rather, you simply write a business plan and submit it to a panel of judges, who decides whether yours is the winner or not.
Winners of these competitions receive a wide range of opportunities, from outright funding to free services to meetings with top-tier venture capitalists. If you know you have a stellar idea on your hands (but can't get recognition for it) then a business plan competition could be exactly the opportunity you've been searching for. This is your chance to shine, to position your idea in the best possible light and put it in front of people with the ability to help you.
Have any other good opportunities for entrepreneurs to compete for funding? Tell us in the comments section below!