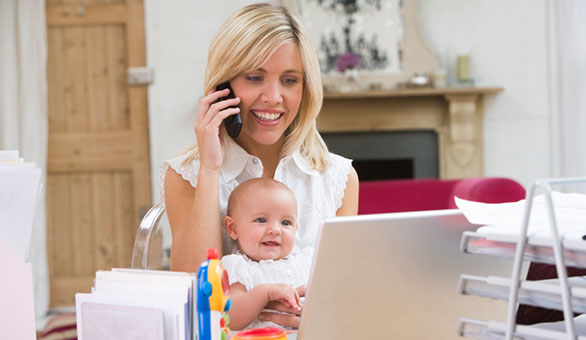 Today, it is estimated that there are more than 8.3 million women-owned businesses in the United States. These women owned businesses are responsible for employing upwards of 7.7 million people and generating nearly $1.3 trillion in revenue, according to the State of Women-Owned Business Report.
So, what is the driving force behind all these women starting businesses today? With statistics like that, we had to know! We asked a handful of mompreneurs what motivated them to take the leap into the world of entrepreneurship.
Here's a look at six successful mompreneurs and their motivations for launching:
Rhonda Sparks, founder of UV Skinz
I started UV Skinz after I lost my 32-year-old husband to melanoma, the deadliest form of skin cancer. It was this experience and being left to raise our three young boys on my own that inspired me to develop a line of UV-protective products so families can have fun outdoors while protecting themselves from the sun.
Laura Fuentes, CEO of MOMables
I started MOMables after struggling with food options for my daughter, who has many food allergies. I began preparing healthy school lunches for Sofia and when moms of her classmates began asking for the recipes, MOMables was created. I'm not a trained chef. I'm just a busy parent who wants to help other moms and dads provide fresh, fast and kid-friendly school lunches.
Tiffany Krumins, founder of AVA The Elephant
My volunteer work at a local children's hospital, plus my years of experience working with children with special needs motivated me to invent my first product. I couldn't stand the thought of watching one more child kick and scream when nurses or doctors had to administer medicine so I designed and manufactured a talking medicine dispenser to allay kids' fears.
Andrea Cutright and Hillary Mickell, co-founders of Foodily
We were executives at Yahoo. At the end of the day, we would often ask each other, 'What are you making for dinner tonight for your family?' A couple of years later we launched Foodily (which stands for "Food I Love You"), a recipe network for friends. Our free app makes it easy to discover, collect, and share foods you love.
Karrie Gibson, President and CEO of Vintage Tech Recyclers Inc.
I've always been passionate about finding practical ways to reuse, donate and recycle just about anything. Prior to 2005, I was a stay-at-home mom but I yearned to have a career so I started a business that would allow me make my own schedule plus create jobs for others in my family.
Kendra Kroll, founder of PortaPocket
A personally embarrassing incident motivated me to launch my business. I accidentally dropped my spare tampon on the gym floor. It probably sat there for about 10 minutes before I even noticed. And to make matters worse, I was the only female there at the time. Although PortaPocket was inspired by my own snafu, I designed it for both men and women to use when they are wearing pocket-challenged outfits.
Mareya Ibrahim, founder of EatCleaner
About 2 1/2 years ago, my dad was diagnosed with prostate and bladder cancer. My youngest son was only weeks old and I felt as though the ground had fallen beneath me. My dad has always been my rock. But, thanks to early detection and a diet filled with clean fruit, vegetables and lean protein, he continues to inspire us all. That's what sparked the fire. Eat Cleaner products makes food cleaner, safer and last longer.
It's not just for the flexibility factor, moms start businesses for all sorts of reasons. What was your motivation for starting a business? Share your story with us in the comments.