You've heard it since you were a kid, "everyone makes mistakes." You know it's true, but when you decide to launch your own business, you can't help but hope your missteps are few.
For entrepreneurs, taking risks, testing limits, and trying new approaches comes with the territory. After all, as Albert Einstein so wisely said:
Fortunately, you can avoid some of these mistakes by understanding the errors others have made in similar situations. We did the hard work for you and connected with some time-tested, proven entrepreneurs and asked them about their biggest regrets and mistakes.
When running your business, you will mess up. You might try to get funding before you're ready, hire someone who upsets your customers, or do something spammy to get ahead.
Lessons from other people's mistakes sting quite a bit less, so read on to gain insight.
I put all my marketing eggs in one basket.
Anthony Saladino, Co-Founder of Kitchen Cabinet Kings, a popular online cabinetry discounter.
My partner and brother, Andrew Saladino, is a SEO Specialist, and has worked for several firms in NYC over the past five years. When we started our company in January 2010, his main focus was to optimize our website so we'd show up at the top of Google search results for industry-related keywords. After six short months, Kitchen Cabinet Kings was ranking in the top three nationwide for both 'kitchen cabinets' and 'bathroom cabinets.'
Fast forward to April 2012: Google releases their Panda and Penguin updates. Google not only changed their ranking algorithms, but also applied a manual penalty to our website which dropped us off of many of our top keywords.
Our mistake was relying too heavily on one online marketing channel for our traffic and leads and not diversifying where our traffic came from.  We regrouped, and my brother got to work on different marketing alternatives to keep leads coming in.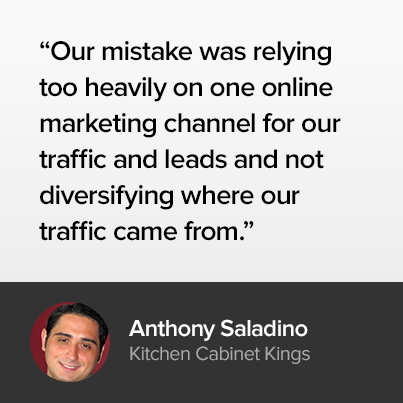 This mistake still haunts us to this day. We actually still have a Google penalty on our website nearly two years later. Our high Google SERP rankings have never recovered, despite countless efforts on our end to comply with Google's terms of service.
This mistake was, in some sense, a blessing in disguise because it forced us to broaden our marketing approach.
We began implementing various online and offline marketing strategies, including:
Pay Per Click (PPC) advertising on Google and Bing

Expanding our social media outreach on Facebook, Twitter, Pinterest, and Houzz

Facebook paid advertising

Banner advertising on industry related sites such as HGTV and DIY

Direct mailers to new home buyers
With these additional marketing avenues, and despite the Google penalties, we were able to grow our 2012 revenue by 25% compared to 2011. We learned a valuable lesson throughout this process, and will never put all our marketing eggs in one basket.
I partnered with inexperienced and unproven people.
Dana Freeman, Founder of Find&GoSeek,Vermont's insider guide to kid-friendly fun.
Expanding Find&GoSeek to various cities throughout the U.S and Canada was part of our original business plan. After two years operating solely in Vermont, we felt the time was right to expand. However, looking back, our excitement to grow the business explains how we overlooked how to best qualify potential new publishers.
When we launch Find&GoSeek in a new community, we need an individual or publisher to be responsible for creating and managing content, site promotion, social media management and generating advertising sales in local market. Since advertising revenue is the only source of income for our business, publishers need to feel confident presenting Find&GoSeek to local businesses-- they need to know how to sell!
Our current publishers found us and approached us about launching our site in their city. Like myself, they are raising kids and have been frustrated by the lack of a powerful resource to help them continuously find cool things to do locally. Flattered by their interest in our offering, we spent more time convincing them how great our business would be in their city instead of evaluating their sales and marketing skills. What a huge mistake!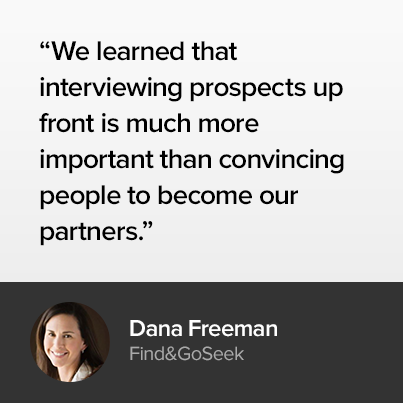 Once they started, we spent endless hours training publishers how to use our backend systems and technology. We shared sales tools too, but we didn't spend too much time and effort on sales training. We just assumed each publisher would be able to sell advertising, which was totally not the case. After awhile, we realized that those who did not have much sales experience really struggled.
And so, we learned that interviewing prospects up front is much more important than convincing people to become a Find&GoSeek publisher.
I generated tons of leads with no strategy.
Ryan Shank, Co-Founder of Mhelpdesk, a field service software company helping small businesses manage jobs, scheduling and invoices.
Like many eager entrepreneurs excited to launch their business and amass customers, we made the mistake of feeding (or rather stuffing) the top of our sales lead funnel instead of converting existing inquiries and signups into actual paying customers.
With so many leads to chase and more to uncover, we believed our business was running smoothly and revenue would quickly follow.  However, when we discovered that our sales team was dropping the ball on highly qualified leads, we realized our mistake.
Looking into our CRM system, it was clear that our existing leads were not converting. Most of the time it was due to poor follow-through on our end, which demonstrated to us that we were wasting money acquiring new leads when we weren't converting existing leads.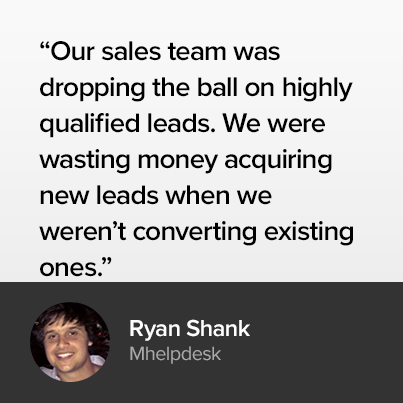 For good reason, hindsight is 20/20. Today we build our systems and tighten our processes before scaling.  And we do this across all functions including marketing, sales and customer support.  It doesn't make sense to identify and stockpile leads if you don't have the systems in place to competently qualify and convert those leads into prospects and ultimately loyal customers.
I refused to accept criticism.
Alfredo Atanacio, Founder of Uassist.ME, which enables businesses to easily hire virtual assistants.
We fell in love with our business. And when you think your idea is perfect, you resent when friends and colleagues criticize it or suggest changes.
Our first months in business were horrible: no sales. Several prospects inquired about lower price points, but we weren't interested in making this change. We were so sure of our imminent success that we even overtly ignored and dismissed customer input too.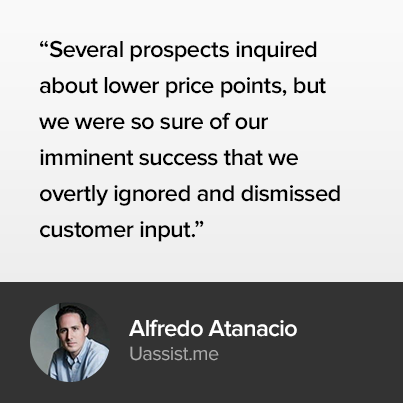 Six months after launch, we could no longer support the business. It was obvious our strategy was not working, so the only thing left to do was swallow our pride and make some changes. To add a little more stress to the equation, my wife found out she was pregnant the day after we started the company, so there was a lot of pressure to make things work!
With desperation being our catalyst, we immediately switched the focus of our business from personal assistance to business support. Then we changed our pricing to a tiered model and even offered hourly assistance instead of part-time assistants. Slowly but surely, business starting coming our way.
Four years later, we still think about how much time and money we could have saved had we been willing to listen to others. As a result of this experience, we now have a very democratic way of evaluating all aspects of our business. Clients, employees and board members are all intimately involved in important decisions we make from product changes to strategies, internal organization and even hiring. In fact, you might say we've done a complete 180; we now invite feedback and criticism instead of avoiding it.
I didn't focus on our strengths.
By Eddy Badrina, Co-Founder of BuzzShift, a digital strategy agency.
When we first started our business, we were all over the map. We focused primarily on generating revenue without giving much regard to profitability. We strayed away from our core competencies (digital strategy, SEM, and content strategy) and agreed to provide clients with web development services, which had lower margins. In short, if a business wanted to hire us to deliver beyond our capabilities, we said yes.
We realized our mistake when we started dreading phone calls and meetings with clients. Projects had become emotionally draining and exhausted (rather, tested) our resources to the point that avoiding clients felt less stressful than engaging in conversations that would advance projects or worse yet lead to more business. When this started happening, we knew something was wrong and we had to shift gears.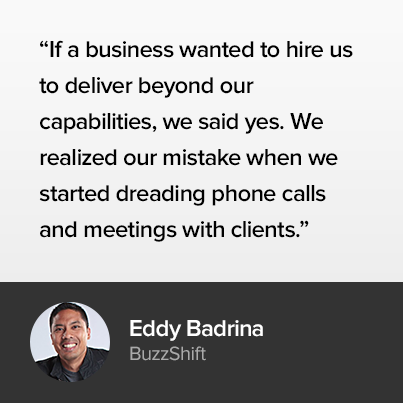 Now, we are very selective about the clients we take on. We evaluate each potential client, examining its culture, business model, and the personality of decision-makers just as closely as we analyze their current digital strategy and tactics. If our clients need services beyond our expertise, we rely on various partners and strategic alliances.
'Don't Find Fault, Find a Remedy' - Henry Ford
You will have lots of time as you plan, launch, and build your business to make all kinds of mistakes. Every successful entrepreneur does. So, don't give up!
The important thing is that you keep learning, growing, adjusting, and perfecting your dream, no matter the mistakes you've made on the way. Let these five mistakes serve as warning signs-- cross them off the list!
Your Turn: What mistakes have you made? What have you learned from a brutal mess up?