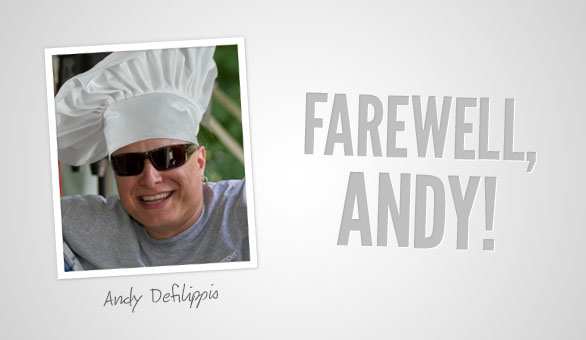 At Grasshopper, our core purpose is to empower entrepreneurs to succeed. We live out this core purpose in everything we do, and here in our office, there's no shortage of entrepreneurial juices. It's not uncommon for an employee to leave to start their own business, like Jonathan Kay who left to launch Apptopia and Mike Arsenault who left to launch Rejoiner, a company he started with 2 other Grasshopper employees.
Today is a sad (but exciting!) day because we have yet another employee leaving us to follow their dreams. If you're a regular reader of our blog, I'm sure you're familiar with our culture evangelist Andy. Andy has been here for over 8 years and he's the guy behind our manicotti Mondays, gourmet grilled cheese days, pancake breakfasts, parties and more!  Andy has always had a passion for cooking (and man, is he good at it!) so it only makes sense that he share this skill with others.
Andy will be heading out to Las Vegas, NV later this month with his family to start his very own food truck! We couldn't be more excited for him. Las Vegas, you guys are lucky to have him!
Learn more about Andy's new adventure in our short Q&A with him:
Where did the idea come from?
I've always wanted to be in food services and own my own restaurant. As they say, 'I got tired of working for the man.' Just kidding David! :)
What are you most excited about?
Owning my own business.
What are you most nervous about?
Not nervous, just excited!
What will you miss most about Grasshopper?
The people.
Where can people learn more about your entrepreneurial adventure?
Our website is still in the works but you can find us on Facebook, Twitter, Yelp & more!
Or if you're in the Las Vegas area, you can learn more by checking out his food truck starting November 2nd!
Good luck Andy! We'll miss you!