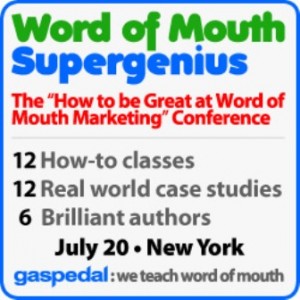 If you have read blog posts from me in the past you would know I am crazy passionate about brand loyalty.  I love learning and exploring new strategies that help startups create their "army" of brand loyalists.  In fact, the power of Word of Mouth amazes me nearly every day.  Just this past week alone I got WOM recommendations (via the lunch table at work!) for the following things: Frame Store, Massage Therapist, Kayak Rental and Restaurant.
And that was just this week!  On top of that I am merely an average consumer.  Now can you imagine if I were starting a business?  Can you even imagine all of the different resources I would need almost immediately?  You better believe I would start to Google all of the things I need, read reviews and comments and verify my findings with my social network.
So what's the point?  The point is that Word of Mouth will be crucial to the success of your start up (And remember it's FREE marketing).  As you may know, Grasshopper Group's mission is to create products and services that are necessary to your success as entrepreneurs.  This is exactly why we have done two things to help you become a WOM rock star.
Created and launched a tool to help you make your brand more Spreadable.  Spreadable is a tool which will empower your customers (your fans) to easily tell the world about all of the positive experiences they are having with your company.  It will help you reward customers, build loyalty, and encourage WOM referrals.

Scored a 20% discount for you to an unbelievable conference in NYC which is completely focused on making you a WOM Supergenius….and who doesn't want to be a Supergenius?  The event is put together by Andy Sernovitz – WOM expert, successful author, and passionate entrepreneur.  Sign up / get your discount code below!
PS – Myself & our marketing manager Jeremy Butler will be at this event in bright RED Spreadable shirts so come say hi!
Sign Up Here!
Word of Mouth Supergenius - http://gaspedal.com/supergenius
Date: 7/20/10 – New York City
Includes: 12 how-to classes / 12 real-world case studies / 6 brilliant authors
Discount: Apply the code "GRASSHOPPERSENTME" to get 20% off!!
Any questions or comments feel free to reach out to me: @grasshopperbuzz or jk(at)grasshopper(dot)com
(And if you decide to attend, definitely let me know!)