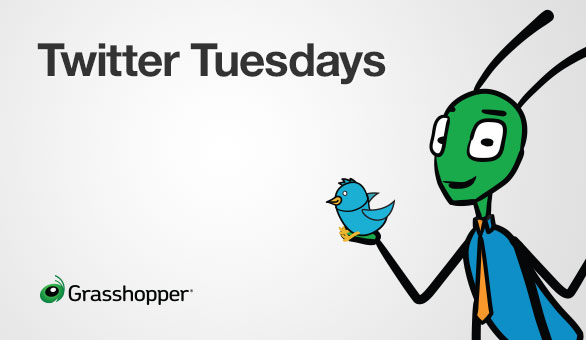 Twitter is a great way to follow what's happening in your industry, especially if you're looking for real-time information about what's hot. Grasshopper is active on the social media site, and so are some members of our team! From now on, we'll be holding Twitter Tuesdays so we can offer you tips on who to follow, what to Tweet, and what's cool in 140 characters.
If you want fun updates about what we're up to, where team members are, how we're connecting with customers, and what we're writing about on the blog, give @Grasshopper a follow.
Grasshopper
Follow our main account for relevant links, small business and entrepreneurial resources, job openings, and more!
Happy Valentine's Day! Here are 3 tips to make your business loveable not just today but everyday. gras.sh/Yv

— Grasshopper (@Grasshopper) February 14, 2013
Taylor, Ambassador of Buzz
Our Ambassador of Buzz account is manned by Taylor Aldredge, and is used to connect with customers, Tweet about events we attend, and generate buzz about our services.
Are you a @grasshopper customer w/a cool story? We'd love to hear about it - grasshopper.com/tellusyourstory — Ambassador of Buzz (@GrasshopperBuzz) February 13, 2013
You should also follow Taylor's personal account because he's fun, cool, and pumped about Grasshopper. Taylor loves our customers.
@craneandcanopy @nicholemckinnon @rhondaabrams The best is when they share a picture of it - twitter.com/CoreyDarkZ/sta… #lovecustomers

— Taylor Aldredge (@tayloraldredge) February 14, 2013
Emma, Content Marketing Specialist
Emma Siemasko is our resident Content Marketing Specialist, who manages our blog, writes website content, and contributes to other internet writing projects. She's a lover of Grasshopper and disseminator of content creation tips.
Pick Up The Phone! Your Voice Is Good For Business, Babies - Enough of this tweeting, email, and gchat stuff grasshopper.com/blog/2013/02/p…

— Emma Siemasko (@EmmaFayeS) February 15, 2013
Allison, Social Media and Community Manager
Allison Canty, Social Media and Community Manager, is at the wheel of our social accounts, but she's also big on customer advocacy, and often tweets to help out customers. Allison was happy to share that she conquered LinkedIn.
After a month of duking it out w/ @linkedin, victory is mine! Word to the wise: don't mass create social accounts w/ 80 different emails.

— Ali Canty (@AliCanty) February 1, 2013
Matt, Senior SEO Specialist
Matt Koulas drives traffic to our website, and we love him for it. He Tweets about his love for SEO and fun things happening around the office. Search results make Matt happy.
Is it healthy/normal that building SEM reports makes me feel warm inside? #notok — Matt Koulas (@mattkoulas) February 13, 2013
We want to follow you!
We want to do our very best to foster relationships with our customers and friends. If you follow the Grasshopper team on Twitter, you might get a follow, retweet, or shout-out from members of our team. Let's connect! Be sure to leave a comment below with your Twitter handle.
This article was written by Emma Siemasko.