This post is part of the Spreadable Startup Series, which tells stories of entrepreneurs trying to change the world.  The series is made possible by Grasshopper Group.  Each week we will profile a new company and help them spread the word!  Want in? Apply here.
---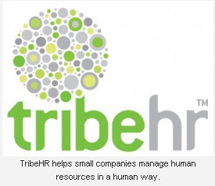 This isn't the first rodeo for Ontario-based entrepreneur Joseph Fung. A business-savvy Canadian with a natural affinity for web development, Fung has managed several successful ventures since, 2001, most notably Lewis Media, the maker of popular CMS Bistro. Since selling Lewis Media in 2008, he's been working on a new project that promises to deliver practical and actionable value to small businesses like his own: TribeHR.
TribeHR is an online platform designed to help small and medium-sized business take much of the tedium out their human resources workflow. With simple, automated solutions for things like vacation tracking as well as more administrative functions like employee record management and job posting. TribeHR is helping small companies, as one customer put it, "turn human resources from something I tried not to think about into something I don't have to worrry about." The key, says Fung, is to allow managers and employees to feel as if there's transparency in all processes, something that the technology certainly helps with.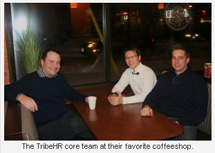 The idea for TribeHR was derivative of problems the three members of the core team had all experienced firsthand. "A group of us…got together and held a brainstorming session, just to identify where there were problems in different markets that weren't being solved particularly well, and different elements of human resources kept coming up," says Fung. The team felt like they had found their sore spot, and in the fall of 2009 started to test their hypothesis. "We made some really basic prototypes," Fung says, "and just started showing them around and having conversations. Every single time we showed our prototypes to somebody, it was this air of excitement, of 'Oh my goodness, if you could get me that product I'd buy it right now.' It went really quickly from 'hey this is a good idea,' to 'wow, we'd better act on this now because customers are demanding it."
The team set to work, but Fung notes that they made some conscious decisions early on to depart from formulas they'd used in the past, both on a product level and in the way the team was pulled together. "Starting with the API was a big departure. In the past, the API was always something that we got to when we have enough developers and enough user base. We really do believe that with this product, good integrations with other products are going to be key to success, so we wanted to make sure we had a robust API right from the get-go," says Fung.
"The other major departure was the way the founding team pulled together. With all my previous projects it had been me and one other person, who built the first version, started selling, and brought on more people as needed. Instead, what we did this time was brought on four additional cofounders in a lesser equity stake to pitch in a bunch of time and we really spread the equity around….So now we've some professional design skills in house, some development that we just wouldn't have had if we hadn't gone that route," he adds.
Fung seems to think the results have been positive, overall. While he admits that scaling a team initially requires more management and logistical planning than, as he put it, "two guys hacking away in a living room," the additional resources are reflected in the quality of the product. "It would not be where it is if we hadn't taken that appreach," he says. "The amount of discussion we have before we implement any code – you just end up with a way better product at the end."
TribeHR's customers range in size from single person operations to 200-employee shops, and Fung is quick to point out that the product is free for teams of under five people. While some of TribeHR's customers come areas that traditionally embrace new technologies like small creative agencies and consultancies, Fung also relayed that the company is seeing success in less obvious markets, like small manufacturing. Where the creative agencies tend to focus on TribeHR's features as a way to increase employee engagement, the manufacturing customers see it as a way to increase transparency between managers and labor in situations that often include unionized workers.
Fung says that customers can expect a number of improvements to be released soon, including integrations with more robust employee feedback tools like Rypple, support for distributed or franchised operations, and products that help coordinate employee functions like expense tracking, all with the goal of empowering managers and employees to embrace human resources, instead of hiding from it. "We really do think that simple tools, opening up the data, and keeping it friendly can let HR be the cheerleader for the organization, like they should be," says Fung.
In a world where the team is often everything, TribeHR might just be a startup's most valuable asset.
For the original article, check out BostInnovation.com.