Factors such as per capita income, hourly wages, workforce quality, taxes and foreclosures play a role in where entrepreneurs decide to start up their own small businesses. The following cities are considered the most popular among entrepreneurs,and represent the highest concentration of small businesses today.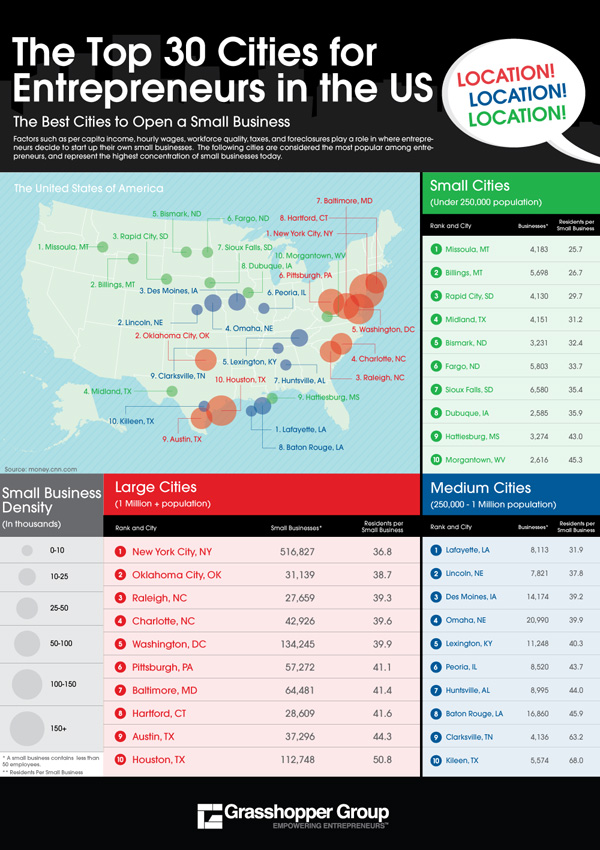 The cities included in this list, came from a study by Forbes, which did not make their ranking methodology available. The study took into consideration various factors for the inclusion of these cities such as: growing economies, affordable workers, stable housing markets, low crime. In the Forbes'  words, 'these metro areas have all the features entrepreneurs need to thrive.' Because we had access to population and total numbers of small businesses for each city, we created our own metric - 'residents per small business' - in order to rank the cities in a non-arbitrary manner.
It should be noted that, while many of the cities included in this graphic are not known for being start-up incubators, they all have attributes considered friendly during the start-up stage. Obviously, some start-ups (especially tech start ups) may choose to move to places such as San Francisco or Seattle, once they are up and running.