A referral program is one simple marketing initiative that can be a cost effective move for any small business. One of the reasons Grasshopper is so successful is due to our Refer An Entrepreneur program and our great customers.
On every page of the Grasshopper.com site, we have a navigation element that allows users to click on the link, fill in the form and send a $25 credit to their fellow Entrepreneur, encouraging them to sign up for the Grasshopper virtual phone system.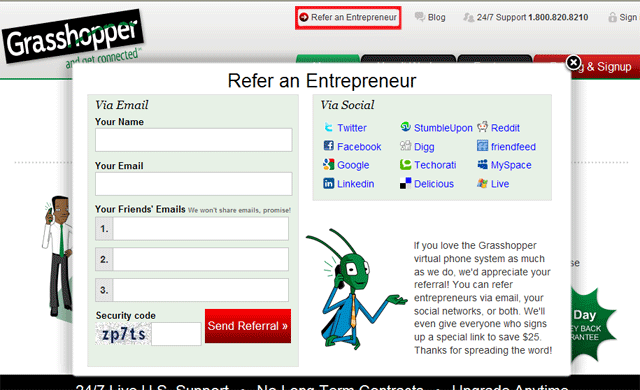 The Word of Mouth Marketing theory dictates that once you have the customer in the door, it's much easier to convert them to a paying customer, especially if their friend sent them in the first place. By comparison to the COA (Cost Of Acquisition ) from search, online advertising, print, TV, and radio, it's a no brainer. In addition, if this new customer now endorses you to his or her friends, it causes a ripple effect.
Pieces that any good referral program should include:
Understanding the lifetime value of your customer verses cost of acquisition

The existing client should feel as though their reference is valuable.

Insuring the referred potential client feels their incentive is significant enough to make the purchase.
Finally, the referral program you present your customers with needs to be easy to use and require minimal effort on the part of the referrer.
Have any questions about our Refer an Entrepreneur program or want to showcase how your referral programs have been successful? Leave a comment.