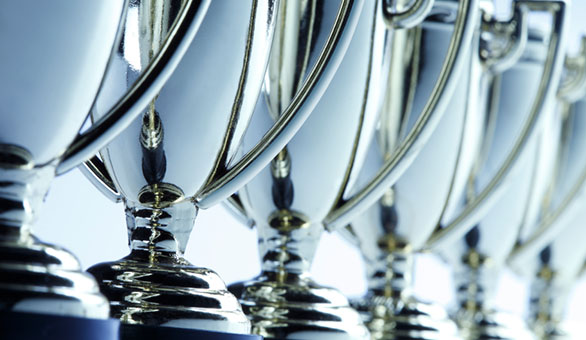 This post is part of our 10 Year Celebration. Stay tuned every month for fun posts, like this one, contests and more! Be sure to check out the contest at the end of this post!
UPDATE: The contest has now ended. Congratulations to Ryan Lermen! Ryan won the $25 AMEX gift card.
If you've visited our blog before, you're probably used to posts that focus on strategies, tips and advice for growing your small business. But today, we're trying something different. As part of our 10th birthday celebration, we're flashing back to a bunch of highlights from 2003, the year Grasshopper was founded. Today's flashback is… music. A topic we thought you'd enjoy since chances are you're probably listening to some of your favorite tunes as you read this post!
So, enjoy this fun look back at what the world of music looked like when David & Siamak were building the first version of Grasshopper and how it compares to what we're listening to today. And don't forget to enter our contest at the end of this post!
Record of the Year: Love Pulls a 180
In 2003, America's sweetheart was Vanessa Carlton — her most famous song – 'A Thousand Miles" was nominated for record of the year. And today? America's sweetheart is none other than Taylor Swift. Her nomination? 'We Are Never Ever Getting Back Together.'
It's hard to imagine 10 years ago, Taylor Swift was only 13 years old! What's not hard to believe? The talented Vanessa Carlton is continuing to entertain today and recently began recording her fifth studio album.
In 2003 the radio was buzzing about passionate and relentless love. Today, it's all about – well, a relentless breakup.
Best New Artist: Boys vs. Girls
In 2003, the ladies ruled the show. Ashanti, Norah Jones, Michelle Branch and Avril Lavigne were all Best New Artist nominees. Today it's the boys club, with nominees like Fun, Hunter Hayes and Frank Ocean.
Imagine if there was a category for Best Old Artist? Bruce Springsteen would definitely take that award home this year. "The Boss" is holding down the fort at the Grammy's with his nomination for Album of the Year in 2003 and 2013's Best Rock Performance. Impressive to say the least!
True musical talent can really withstand the test of time – it will be interesting to see what technologies of today can do the same. Any predictions?
Song of the Year: Would you "Lip Dub" to that?
In 2003 the term lip dubbing hadn't even been coined yet – in fact – it wasn't until 2007 that Jake Lodwick, the man behind the phrase, started his video-sharing website Vimeo.
This year's Song of the Year nominee, "Call Me Maybe" by Carly Rae Jepsen, may have Mr. Lodwick to thank for her viral success. The music video for this song, with nearly 400 million YouTube views, had people lip dubbing like crazy. From Miss USA contestants, to soldiers deployed in Afghanistan, to just a bunch of old people – this song really took the world by storm.
Imagine people lip dubbing to 2003 Song of the Year winner 'Don't Know Why' by Norah Jones – it just doesn't seem to have that same pizazz.
Best Pop Performance by a Duo or Group: Are we breaking up?
No Doubt's 'Hey Baby' won this category back in 2003, but less than a year later the band took a hiatus to focus on solo careers. Good news for their fans –the band reunited and just released their sixth album this past fall.
2013 nominee Maroon 5, is only one year older than Grasshopper, however, the band has been performing together for nearly two decades. Previously known as Kara's Flowers, the band was formed back in 1994 but after their first record flopped, the band decided to take a break to attend college – and judging by their success over the past decade, they must have learned something good!
Sometimes even the best teams need to take a break – but not our founders – David and Siamak are still going strong after 10 years!
Best Male Rap Solo Performance:
Hot in…So hot in herre…Apparently when you're a Grammy winning artist, the rules of proper grammar and spelling no longer apply. Nelly's 'Hot in Herre' took this prestigious award back in 2003, but the song's lyrics probably stuck in your head longer than this category existed at the Grammys. Introduced at the 2003 awards, by 2005 the category had been combined back into a genderless category.
Although he was nominated back in 2003, Jay-Z couldn't compete with Nelly. This year, however, the artist is nominated twice in the same category. Being in the music business for more than a decade, Jay-Z has clearly learned a thing or two – the more times you enter, the more chances you have to win!
So What Really Changed?
It's interesting to see how not only has music changed in the past decade, but so has its technology. In 2003 we saw the introduction of iTunes, which really rocked the music world. And today, music industry disruptor Spotify is stealing the show changing how we consume music. What do you think music will look like in 2023?
Join us in celebrating our 10th birthday with this fun contest and your chance to win a $25 Amex Gift Card! Give us your picks for who will take home the big prize in 5 Grammy nomination categories below for a chance to win.