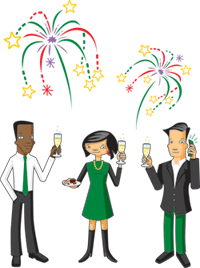 It has been a great year here at Grasshopper. We made some pretty significant changes at the company (you may recall the GotVMail to Grasshopper re-brand) and are looking forward to many more improvements in 2010.
One of our big initiatives this year was the addition of the Grasslands blog. Launched in September, the response has been terrific. We are always looking for new ways to help entrepreneurs and the blog has provided us with an additional means to do so.
In case you weren't here when the blog launched, we thought we'd fill you in with the...
Top Ten Grasshopper Posts of 2009.
For a full summary of the years events, check out the Founders Letter. Thank you to all our customers who made 2009 so wonderful.
Happy New Year and let's make 2010 an even better year then the last!