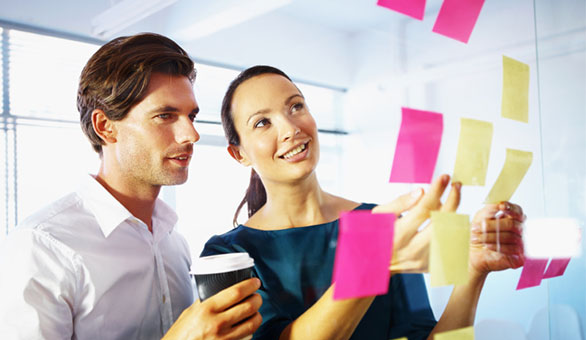 Never touched a line of code? No worries — you're still an asset to your business. Somebody needs to find customers, negotiate strategic partnerships, fuel marketing momentum, and build funding streams. That person is you.
As valuable as you are to your business, however, it's easy to feel discouraged.
'Hackers are the magicians of the start-up world, conjuring real-world products out of hazy ideas, and they're both highly sought after and lionized for it,' wrote Jessica Stillman in a blog post for Inc. 'Think of the industry's icons from the Google guys to Mark Zuckerberg — they're techies all.'
It's really overwhelming.
'All this focus on the guys behind the code can leave an aspiring non-technical co-fonder wondering how exactly she would make herself useful in the early stages of building a startup,' wrote Stillman.
And guess what? The answer isn't as simple as picking up a book and learning how to code.
Here's how fellow non-technical founders are navigating their roles:
1. Elizabeth Yin, Co-Founder at LaunchBit
As the non-technical co-founder of email ad network LaunchBit, Elizabeth Yin is encouraging fellow entrepreneurs to make the most out of their strengths.
'It can be easy as a non-technical co-founder to sit around and do nothing in the beginning, because no product has been built,' she wrote for Women 2.0. 'But, actually, this is when you are MOST needed. When there is no product, your job as a non-technical co-founder is to somehow get customers and keep them happy.'
Without customers, you don't have a solid business model. While your technical counterparts are building the product, you need to focus on getting your key revenue drivers in place. At the end of the day, your company needs to make money — product development alone won't cut it.
2. Nelly Yusupova, CTO at Webgrrls and Founder at DigitalWoman
Nelly Yusopova may be a CTO, but she has a solid understanding of what her non-technical counterparts are experiencing on the other side of the table. From her perspective, the 'growth hacker's' professional role is absolutely crucial. You need to validate your idea before you invest the resources in building it.
Create a prototype, she recommends — and test it. Ask lots of questions to make sure that you have a viable product and business plan.
'Your instincts might be to find a developer and get started building right away — but first, it's important to test whether or not your customers might actually want it,' she wrote for The Daily Muse.
Once you know what you want to build, hire a dev team and well, build it.
3. Nikos Moraitakis, Co-founder and CEO at Workable HR
In his experience co-founding Workable HR, Nikos Moraitakis has found a non-technical background to be a core business asset.
'A good non-technical co-founder is not just a 'business guy' or 'salesman.' He is the person who helps create an operationally and commercially viable company around the product,' he wrote for Quora. 'Doing this well can be equally important as to have a good product, or, to put it better, the product would take twice as much to develop and end up worth less if someone wasn't taking care of all the rest.'
The non-technical co-founder's role is crucial, he says.
'These are not mere administrativia I'm talking about. It's parts of execution that some folks can do remarkably better than others and can make the difference between a simple tech project and a successful technology company.'
Your Thoughts
Non-technical co-founders: what core business assets have you brought to your company? What words of wisdom would you share with fellow non-technical entrepreneurs?