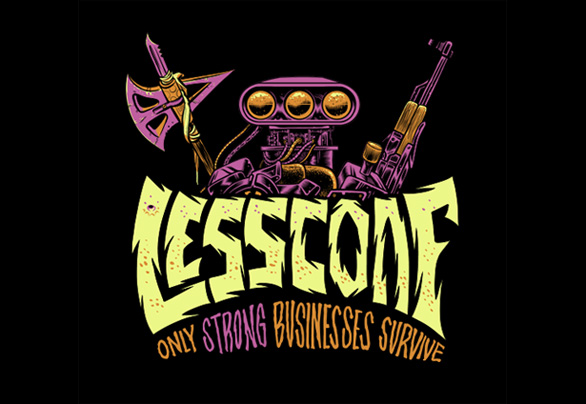 We've ignored the warnings about the insanity that may ensue and are packing our bags and heading south for the most epic startup event ever – LessConf.
What attracts us to LessConf you ask? Tweets like this. "You should attend if you like pudding, karate chops and lasers (in that order)"and this, "you may not bring fireworks to LessConf this year."
As you can see, LessConf isn't your average event.  It's recommended that you only attend if you "want to learn, grow, and challenge conventional thinking." This is definitely our kind of event and something that we not only love to attend but we also love to support.So, what can you expect from us at LessConf?
We'll be co-hosting the pre-party with our friends Dynamic Wear on Wednesday night.  To go along with the ridiculousness that is LessConf, this won't be your average pre-party.  There will be:
Food – delicious appetizers like pub wings and sliders

Drinks – pick your poison. We'll provide drink tickets for your first couple drinks.

Networking – an opportunity to meet the folks you'll be spending the next 2 days with. Make new friends and catch up with old.

Photo Booth – What happens at LessConf stays at LessConf – unless it happens in our photo booth. :)
Basically, everything you could ever want in a pre-party and the chance to take awkward photos with people you just met! What's not to love?
Pre-party details:
Date: Wednesday, February 22nd

Time: Party starts promptly at 8:00 PM

Where: Ri Ra Irish Pub
Come for a drink or five and kick LessConf off the right way. Sessions don't start on Thursday until 10 AM, so you've got no excuses!
Will you be there too? Be sure to find Stephanie, our Ambassador of Buzz! If you're lucky, she'll hook you up with a $50 gift card to give Grasshopper a try!