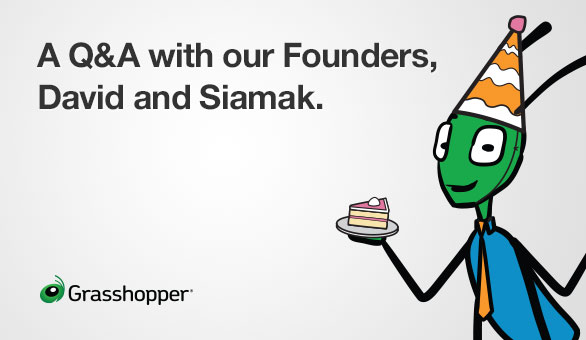 Ever wanted to pick the brain of a successful entrepreneur? Well now here's your chance. As part of our 10th birthday celebration we're featuring a quarterly Q&A with our founders, David Hauser and Siamak Taghaddos. We're kicking things off this quarter with some questions we created, but moving forward, we want your help!
What questions do you have for David and Siamak? Send your questions to us on Twitter, Facebook, or email us at social@grasshopper.com.  It's not every day you get the opportunity to get your most pressing business questions answered by two successful entrepreneurs who've been where you are and done it all – so don't waste this great opportunity!
When you started the company back in 2003, did you imagine that it would look like what it does today? If not, what's different?
When we started we both thought we would be much more telecommunications focused than we are. What we have built is an amazing team of people that empower entrepreneurs to succeed every day. Of course we love our virtual phone system made for entrepreneurs but we are most passionate about our customers and helping them. What we always wanted though was a place people loved to work and could make meaningful contributions to something great.
What are you most proud of about Grasshopper?
I could say the customers we have served, the entrepreneurs we have seen grow, or  the awards we have won, but when I look back over the last 10 years what I am most proud of is our yearly company BBQ where our team gathers and brings their families for a day of fun. It is not about the number of people or the fun things we do, but the gathering of people that all have a common goal and direction via Grasshopper.
What motivates you to keep growing Grasshopper?
As entrepreneurs we always want to be growing and it is something inside of you that motivates you each day. We love what we do, love the people around us and have a lot of fun.
According to reports 3 out of 4 startups fail, what qualities do businesses need to see a 10th birthday?
An amazing team that can grow with the business, a strong executive team to lead the business and marketing that continues to change with the market.
One piece of advice for people wanting to start a business?
Just go and start, there are too many people that just talk. Talking I promise has a 100% failure rate, so by starting you are at least doing better than that.
What's the most overrated piece of advice you think entrepreneurs should ignore?
Think outside of the box, it means nothing. We have a bunch of these little tidbits from an old marketing campaign with Gary Busey. In the current world of internet and SaaS businesses, the term pivoting is over used and silly.
If you could start over, knowing what you know today, how would you do things differently?
No idea, there is no reason to look back. What we have done is what got us here. Someone much smarter than me said, looking back gives you nothing more than a pain in your neck.
Where do you see Grasshopper 10 years from now?
Empowering entrepreneurs to succeed all around the globe.
What's the one thing you'd never change about Grasshopper?
Our culture and core values.
Want your questions answered by David and Siamak? Our next Q&A is scheduled for early April. Submit your questions by March 18th and your question could be featured in our next founder Q&A. Questions can be submitted to us on Twitter, Facebook , by email at social@grasshopper.com or in the comments section of this post.