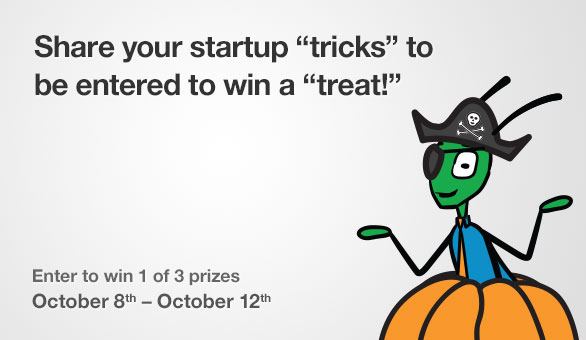 Last week we held a giveaway for 3 PumpkinWOW party packs. To be entered to win 1 of the 3 party packs we asked readers to share a startup "trick" and we got some really great tips!
And the winners are…
PJ – "Hire slow. Take your time hiring and don't settle for the first person, make sure you get the RIGHT person. Taking the time up front will save you a lot of hassle in the end."

Justin G – "Be Social – I don't mean social media, I mean be SOCIAL. Attend events, join local business groups, attend trade shows, etc. The old saying "it's not what you know, but who you know" is not entirely true but it's very close."

Lora – "See it, do it, teach it…."
*Winners will also be notified by email.
Thanks to all those who entered the giveaway last week! Special thanks to PumpkinWOW for the pumpkin carving tattoo giveaways!
Just because the giveaway is over, doesn't mean you can't still share your "tricks!" Have a "trick" that's helped you grow and build your business? Share it with us here.