You're anything but boring. In fact, you're kinda weird.
You don't shy away from new things, and you're set on marketing your business in innovative and obscure ways.
All of us have a weirdo gremlin itching to come out. And thankfully, unleashing that inner gremlin can help you market and grow your business.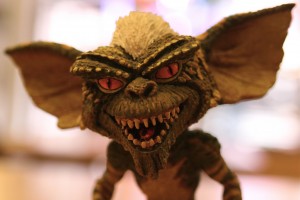 OUT OF MY CAGE!
It's time to join the throng of business owners who are letting that gremlin out of its cage, trying out tactics that shun cliches and usurp the conventional.
Do something different. Be obscure. Let out your gremlin.
Why Obscure Marketing Works
Most companies keep blogs, get active on social media, and talk about being 'engaging.'
But talking about 'engagement' is a lot different than actually being interesting.
Think about your best friend. Do you like them because they do the same thing as everyone else? Of course not. You like them because they're unique.
If you're going to get in potential customers' heads, then you need to catch them off guard. You need to get them gabbing about you to their friends. In fact, people cite 'recommendations from people I know' as the best metric of trust: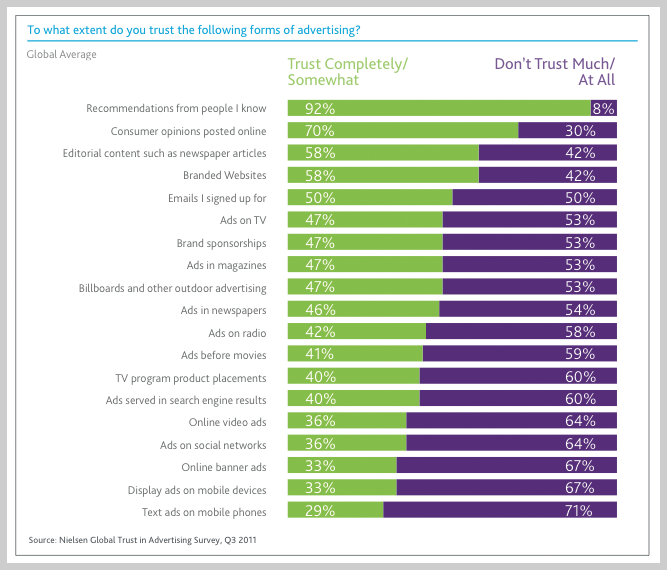 Nothing gets people talking like some weird and obscure tactics, so get them into your marketing plan today!
Here's how to to integrate obscure marketing techniques into your business:
Be Crass and Embrace Who You Are
People are always telling us to be professional, but is that always the way to go?
Not necessarily.
Instead of perfecting your hand shake and buying a $1,000 suit, think about your audience. Might they appreciate a touch of crass?
Dollar Shave Club rose to infamy thanks to a video called 'Our Blades Are F***ing Great.' The company had to appeal to their audience on grounds stronger than their blades, so they integrated a laid-back, man-friendly attitude into their marketing, and it's been a smashing success.
Need a girly example?  Poo-Pourri, a 'before-you-go' toilet spray, embraced their whacky product. Instead of trying to tout an image of sophistication, they hired a hilarious actress (who's also beautiful) and cracked poop jokes. So much for believing girls don't poop!
Both companies embraced a crass attitude, and it's worked for both of them!
Go Uninvited -- 'Hijack' Events
Upset that you didn't get an invitation to a cool event?
What if you 'hijack-ed?'
Allan Branch of LessAccounting, wanted to sponsor an Entrepreneur.com event in Long Beach, California, but didn't have much money:
I emailed the event organizer about a possible sponsorship. We're bootstrapped and don't have hardly any extra money, but maybe we could do something for less than $500.00.

I waited a few days, and never got an email back from the organizer. So I started thinking, if lunch isn't provided, could we provide it?
Allan got to work. He started thinking about ways he could provide lunch in a way that wasn't intrusive. After all, Allan cared about making a good impression.
What he did was simple-- he served pizza in a local park. Allan and his team worked the event, resulting in a really effective lunch.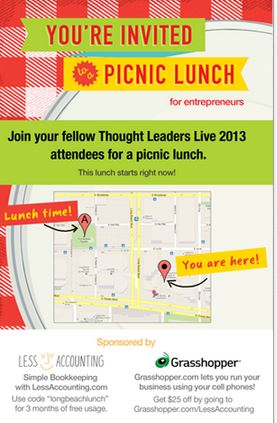 Allan tells his story better than I can, but the results are clear. He wanted to make an impression at an event-- and he did.
Make an Experience
Your company is more than something that sells stuff. It's also an experience.
Take it from R.L. Akers, a sci-fi author who runs Orbital Defense Corps, a fictional branch of the U.S. military that was developed in order to combat the alien threat in Akers' books.
In order to facilitate "transmedia storytelling,' Akers launched a full website dedicated to the Orbital Defense Corps as if it were a real branch of the military. He includes a full press packet and toll-free number (855-ODCorps) that are in character of the novels, even hiring a military-sounding man to record greetings.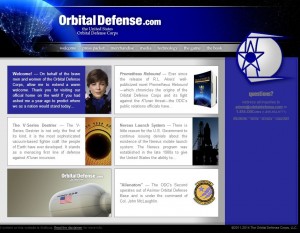 The website includes information about the branch, as well as info about the branch's technology and how to join. The site includes a lot of additional info that's not in the books.
The strategy takes after the fully immersive and interactive experiential marketing of big-name series (e.g. Harry Potter, The Hunger Games, etc.).
Sell More Than A Product By Creating Meaning
Are diamond engagement rings an ancient tradition?
Nope.
In 1938, diamond prices were at a low, so De Beers and N.W. Ayer & Son, their ad agency, concocted a plan. They came up with the 'A Diamond is Forever' campaign, which resulted in the belief that marriages need a rock to seal the deal.
[pullquote]'It created sentimental meaning for the product that resonated with people,' [/pullquote]Michael Cody, a University of Southern California communications professor, told Entrepreneur.
If you're able to create meaning (especially sentimental meaning!), then you'll see more than a product. You'll sell something unbuyable and intangible: an experience, a lifestyle, a commitment.
Go Where No Business Has Gone Before (Literally)
We reported on Half.com when we highlighted weird, awkward, and whacky marketing tactics that actually worked, but I've got to bring it back.
In 1999, Half.com, a textbook rental company, convinced the town of Halfway, Oregon to give itself a re-brand.
Yes, Halfway, Oregon became Half.com, Oregon.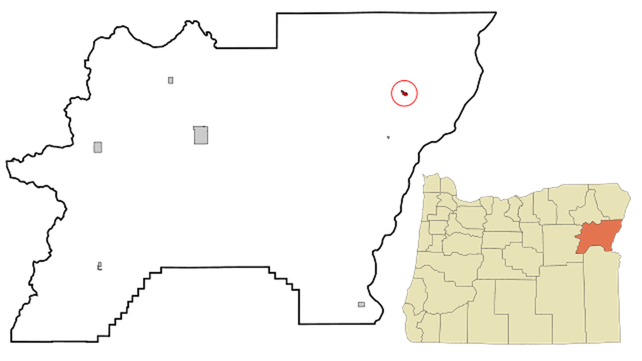 In exchange for taking Half.com as its new name for one year, the town received a deal that included company stock, Internet access for the whole town (!), and a giveaway at local events.
And Half.com (the company) was happy, too. After all, not only did they have an obscure marketing campaign to brag about, but they also got a literal spot on the map.
Months later, Half.com was acquired by eBay for $300 million. Talk about a sweeping success!
Sweep The Field With Offline Promotions
Grasshopper's most famous marketing story isn't about A/B tests-- it's about a zany offline campaign.
In 2009, when we changed our name from GotVMail to Grasshopper, we FedEx'd 25,000 chocolate-covered Grasshoppers to influencers around the country.
The guerilla marketing stunt took people by surprise. It resulted in features on FOX, Small Business Trends, and many more.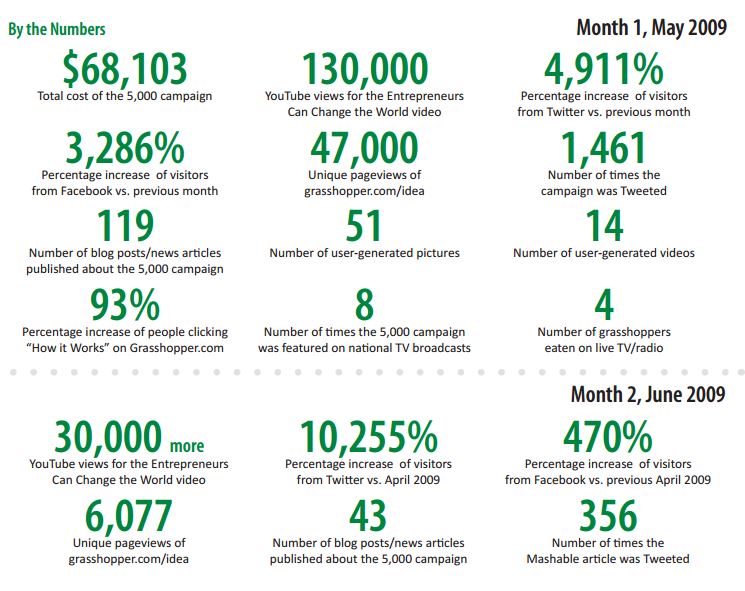 You don't have to send out 25,000 insects for offline tactics to be successful. The combination of surprise and an offline tactic worked wonders for us. There might be a zany offline tactic just waiting for you!
Build 'Marketing' Into Your Product
Ok, so building marketing into your products and services isn't exactly obscure. But it's the #1 way to effectively get in front of new eyes and create a referral machine.
The Blissful Dog is a perfect example. The company sells organic nose and elbow butter for various types of dogs. Understanding that people feel a kinship with their dog's breed, The Blissful Dog personalizes their ingredients AND their packaging.
If you have a goldendoodle, you can order nose butter with a pic of the pup. If you have a french bulldog, you can do the same.

Marketing is built directly into the product. With a few ingredient switches and personalized packaging, The Blissful Dog is creating a puppy butter empire.
Let Out Your Gremlin
That weird voice inside of you knows what it's talking about, so listen.
Be your weird and wonderful self. The recognition will follow. Try out some of these obscure marketing tactics and let us know what works for you.
We can't wait to find out just how crazy your gremlin gets.
Your Turn: Have you let out your inner gremlin when it comes to marketing? By that I mean, have you tried out any obscure marketing tactics? Please share in the comments!