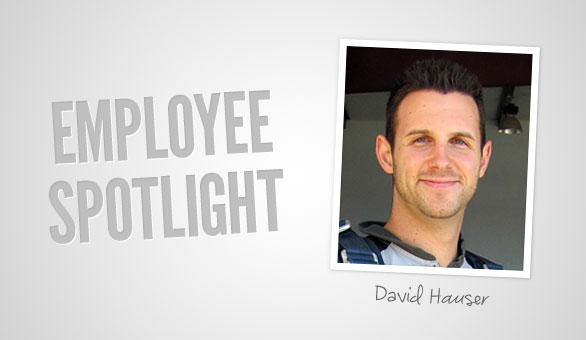 This week's employee spotlight is on David Hauser.  OK, so maybe he's not technically an employee here but he sure is a big part of Grasshopper as the co-founder and CTO. He's also an angel investor and has launched more than five companies including Chargify, PopSurvey and PackageFox.
Let's get to know David...
What's the one piece of technology you can't live without?
My iPhone because it has my email, texts, pictures and documents. When I traveled to Asia last month I used my iPhone more than my MacBook Pro. Maybe I should get with the times and put music on there too, but for now that is on an iPod Shuffle.
What's your favorite place you've visited?
Would have to be Italy for sure and the country side, not Rome or Florence. Having traveled all over the world and a lot in Europe specifically, Italy is just an amazing place. From the food to the art and history, beautiful beaches and amazing country side with wineries. It is a country I will go back to many times.
What's your biggest pet peeve?
People that say they're from New York, knowing that everyone first thinks of New York City as of Manhattan but they're really from far outside Manhattan. A close 2nd to that is people that say they're from New York City when they lived there for a year. Living there for a year after college is not the same as growing up there.
Describe your ideal Saturday in 7 words or less.
Hang with family, watch TV, be outdoors.
What's the best piece of advice you ever got?
Don't waste time looking back, all it gets you is a pain in your neck.
Fun facts - have anything interesting people should know about you?
Growing up I was slow to learn how to read because of my learning disability and spent many years getting over that, but it was the best thing that ever happened to me. From that I learned how to learn and what was best for me, which served me well in high school and college where I didn't have to study for tests or take notes in class, if I listened and saw it I got it.
Connect with David: