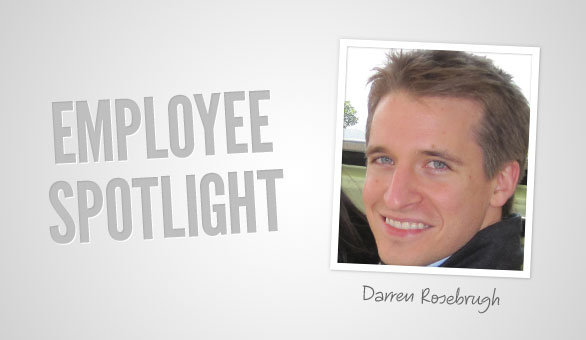 This week's employee spotlight is on Darren Rosebrugh. Darren is on our product management team and is a product manager for Grasshopper.  Some of you may already know Darren as part of his job is talking to customers and researching ways to make Grasshopper even better. Darren then takes those ideas and works with our engineering team to turn those ideas a reality for our customers.
Let's get to know Darren…
Biggest pet peeve?
People putting non-recyclable stuff into the recycle bin. Plastic bags, pizza boxes and other food-encrusted papers can't be recycled.
Go to karaoke song?
Kan Guo Lai by Richie Ren
Describe your ideal Saturday in 7 words or less.
Long bike ride, then lounging around exhausted
If you were pulled over for speeding, what would your excuse be?
Don't make excuses, just be apologetic and respectful. Or cry, but not everyone can pull that off.
If someone made a movie of your life, what movie star would you want to play you?
Well I'd want the movie about my life to win lots of Oscars, so I'd go for Tom Hanks. Or Meryl Streep. She has such acting range.
Fun facts – have anything interesting people should know about you?
I ran a triathlon barefoot, and I'd do it again if my wife would let me.
On Google+?  Add Darren to your circles!