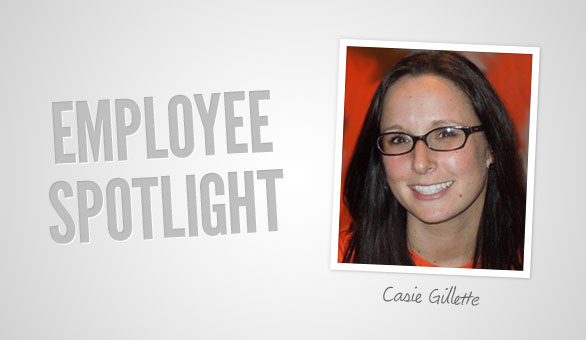 It's Meet the Employees Monday here at Grasshopper.  This week's employee spotlight is on Casie Gillette.  Casie works on the marketing team as the Online Marketing Manager. If you've ever seen us in search results, clicked on a Grasshopper ad or felt stalked by one of our banners, that's probably her fault.
Let's get to know Casie...
Favorite food?
This is tough. I love to eat nachos and admittedly order them 50% of the time I'm out. However, if I could only eat one thing the rest of my life, it would definitely be pizza. It never gets old, you can put different toppings on it and if you're really feeling adventurous, you can stuff the crust with cheese…what other food can you do that with!?!
Chocolate or vanilla?
If we're talking ice cream, soft-serve vanilla with rainbow sprinkles…if we're talking cake, still vanilla, in the form of Funfetti.
Morning person or night owl?
I've never been a morning person and I don't think I ever will be. Sleeping in is one of my favorite things to do.
If you could visit anywhere, where would it be?
Too many possibilities! One of the items on my life list is to take my mom to Italy. I've been there before but she never has so hopefully I can do that for her someday.
Fun facts – got anything interesting people should know about you?
I don't know why I tell this story but…I had a cow named after me. My aunt and uncle own a farm and a calf was born the same day I was…so, Casie the cow it was. I think that also led to my steak aversion :)
Stay tuned for next week's employee spotlight on Chris Buchino!