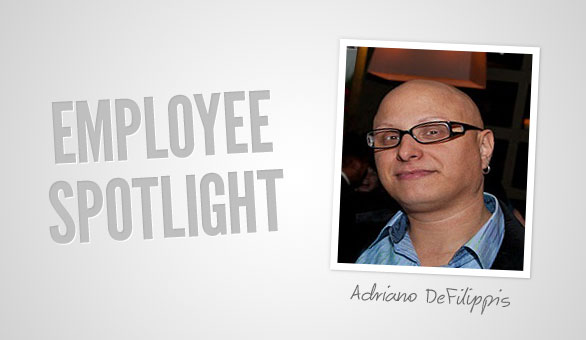 It's Meet the Employees Monday here at Grasshopper.  This week's employee spotlight is on Andy De Filippis.  Andy is on the HR team here and is our Culture Evangelist. As our Culture Evangelist he works in conjunction with our HR department to set up events inside and outside the office.  Andy is known to put on awesome events like cake day, grilled cheese Tuesdays, panini Thursdays and breakfast sandwich Fridays every now and then (jealous?).   As he says, 'when you think of fun at the workplace you should be thinking of me.' and we think every office should have an Andy!
Let's Get to Know Andy...
Summer or Winter?
Summer, I can finally show off my 2 piece bathing suit.
Dunkins or Starbucks?
Starbucks, I need to get my macchiato fix.
Favorite TV show?
Archer, if you haven't watched it then you should make a plan to watch it.
Favorite food?
Pizza.
3 things you never leave home without?
Wallet, iPhone and car keys.
Fun facts – got anything interesting people should know about you?
In '88 when I was 13, I traveled back to Brazil for the summer and hated it so much that after a few weeks my mom agreed to fly me back home.  I only lasted about 3 weeks of the 12 we were supposed to be there.
Stay tuned for next week's employee spotlight on Allison Canty!