Ok, I'll be honest. I am extremely stubborn (and even cocky) about my business. This can be a gift and a burden.
When my Honey Habanerno Bacon BBQ sauce was cast on Lifetime TV's Supermarket Superstar, my true colors burst out like a leprechaun's rainbow.
I mean, COME ON, I was going to be on TV.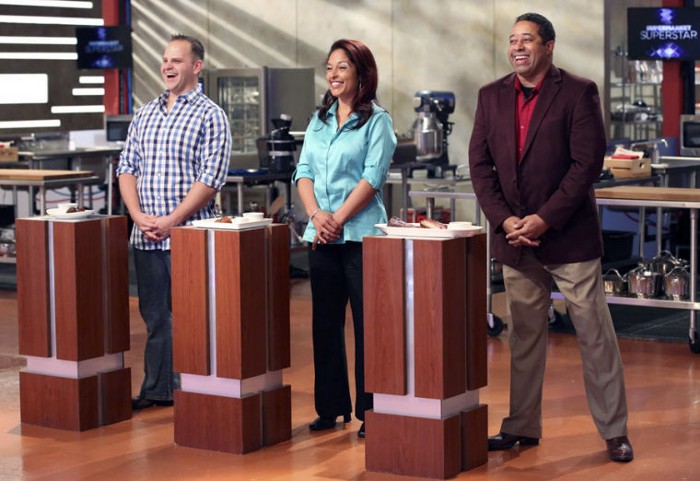 I'm the super excited guy on the left
Despite the fact that I'd only been running my business for a month, I was sure I'd win. But I didn't.
And because of that, I learned invaluable business lessons that have helped me bring my sauce to the top.
Here's what you can learn from my game show loss:
Lesson #1: Know Your Audience
When I went onto the show, my business was brand new. I'd taken a family recipe, tweaked it, and competed in one rib competition. Not only that, I had no money to invest. I'd only sold the sauce to family, friends, and people at that one event.
But I did have my brother Chris who can draw anything. We came up with the fantastic idea of a flaming bat pig for our logo: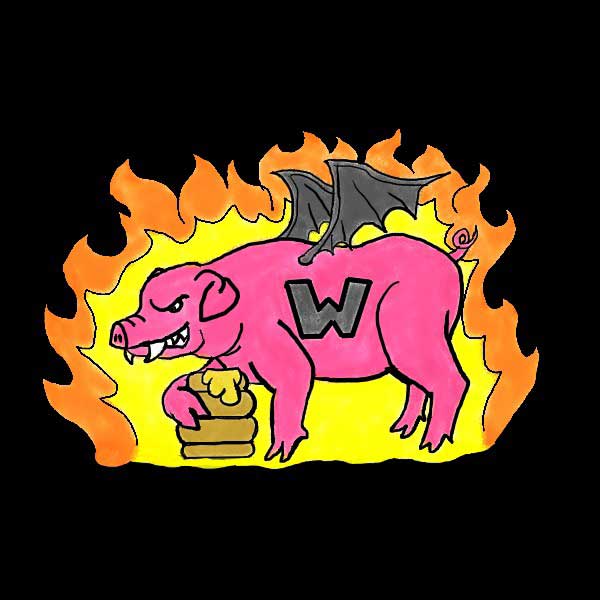 I was extremely proud of that logo. With the resources we had, Chris did excellent work. I was sure this logo would help our sauce fly off the shelves.
That was until I made it to the second round of the show.
Chris Coryn, the mentor on the show, hated it. His exact words were, "It'd give children nightmares."
While on the show, I got to work with a designer to create a new logo, but I wasn't satisfied. Plus, when I came home I had to have a tough discussion with my brother. Due to my nondisclosure, I wasn't able to tell him why, but we had to change the logo and use what I learned on the show to make it awesome.
This lead to Chris's finest work yet, Honey Habanero and Bacon Guy. Our new logo tells the story of what The Wright Sauce is (plus, it's kid-friendly).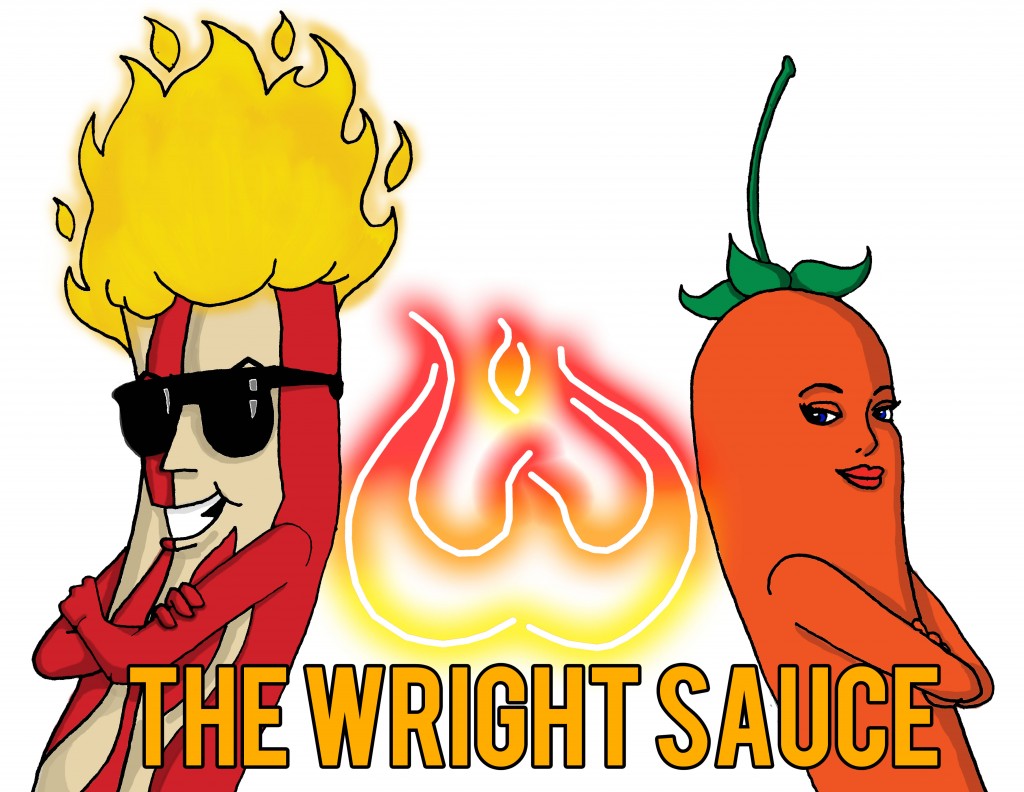 **The Lesson? ** Make sure you know who your target audience is. Even though I thought the flying bat pig was awesome, it wouldn't have enticed a lot of people shopping for sauce (frankly, it would've scared them!).
Lesson #2: When You Get Kicked In Your Gut, Get MOVING
Going into round three of the show, I just knew I was going to win.
I had received a full endorsement from the show's focus group and was going up against a nice lady who'd created a Jamaican jerk sauce that required an additional supplement to increase the spiciness.
When the grocery store buyer was announcing the winner I was grinning like a Cheshire cat, daydreaming of how I would spend the winnings.
But he didn't declare me the winner.
I crumbled. I felt like someone had kicked me in the gut.
I didn't know it at the time, but I needed to lose. I needed someone to knock me off my pedestal and send me scrambling to make my sauce better. If I had won the show, I would not have worked my tail off to get my sauce as good as it is today. I would have won $100k in product development and $10k in cash. If I had gotten all that cash, I would've gotten lazy.
Instead, I came back home, teamed up with my local SCORE organization, and worked on my weaknesses. Now, my product is grocery shelf ready.
The Lesson? _Screw up and keep going.Failing is an opportunity to improve. Yes, it sucks to screw up, but without mess ups you'll never be able to make your products better. _
Lesson #3: Trust Your Instincts
When supposed 'experts' are critiquing your product on national TV, it's tempting to believe everything they say.
But it's a delicate balance-- you should adjust based on feedback from mentors and customers, but you should also trust your instincts and stand behind your product.
When I went on the show, the experts told me to make my sauce more acidic so it would have a longer shelf life. Unfortunately, doing so knocked the spiciness out of the sauce. My instincts told me to add more habaneros, but I was set on the advice from the experts.
That 'expert' advice made my sauce worse. I wish I had trusted my gut!
The Lesson? Trust yourself. Experts will have advice a-plenty, but no one knows your products or services like you do.
Lesson #4: Don't Get Tripped Up By The Past
I'd be lying if I said I was ecstatic when I got back from filming. I was beside myself upset.
Did I let that hold me back from moving on and making the best of a bad situation? Absolutely not.
Sure, losing a game show probably doesn't seem like such a big deal, but to me it meant a lot. After losing, I felt like I could no longer profess that my product deserved to be on store shelves.
I have seen so many people revel in their misery, letting the bad memories manifest to a point where it dictates who they are and how they are going to act.
I didn't want that to be me. Instead of letting my loss eat away at my soul, it motivated me. If a boxer refused to get up after getting knocked down, he wouldn't be much of a boxer.
The Lesson? Never let the past haunt you. If you do, you'll be doomed. Bad stuff happens, so always look forward, not back.
The Biggest Lessons
Learn from you mistakes. If you are an entrepreneur, there will be many of them. Just don't make the same ones over and over again.
Being on a game show taught me so much about building my business. These days, I'm confident about my success, thanks to the memories of what I did wrong.
Plus, I have the best darn BBQ sauce in the country, no matter what some TV show thinks.
Your Turn: What experiences have given you the biggest lessons?