What's new with small business and digital marketing? I'm glad you asked! Here are a few things people are talking about this week.
Marketers Still Love Digital Video
For the past several years, we've heard all about marketing with video content. It's been a top trend, and the wave of the future, for a while now. And according to a recent report from Trusted Media Brands, marketers are still optimistic about video marketing.
The report found that 42% of marketers hold increasing optimism about the ROI of using video in their marketing efforts.
With Snapchat gaining traction and Facebook introducing live-streaming video, it's easy to see why video is still gaining ground. In fact 39% of marketers stated a desire to increase their use of the new Facebook Live.
Bing Tells You What to Watch This Olympic Season
With the start of the 2016 Olympic Games in Rio de Janeiro, search engine Bing is getting into the Olympic spirit with an entire module dedicated to the games. When users search for certain keywords related to the Olympics, results include an interactive box with information on sports, athletes, schedules, medals, and daily predictions.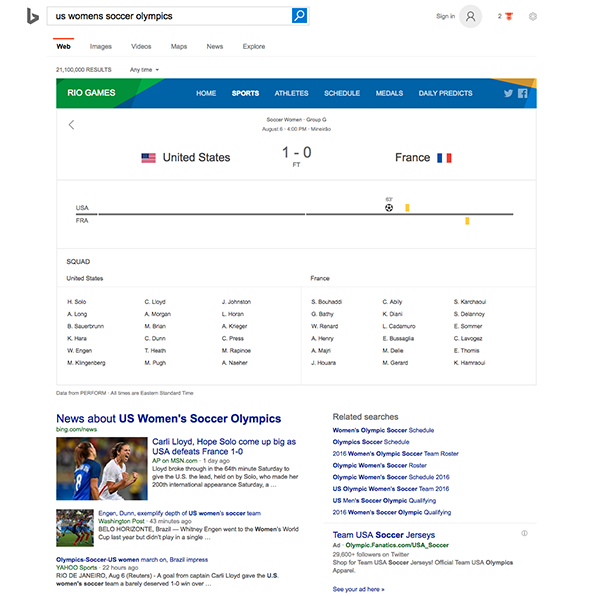 Bing also draws up "Events to Watch" to highlight the most anticipated upcoming games and events, based on the likelihood of close competitions, upsets, and new records. Searchers can also find real-time medal counts for participating nations.
Small Business Lenders are Still Cautious
Despite improving economic conditions, it seems that small business lenders remain very cautious with their investment dollars.
The Small Business Lending Index (SBLI) reached 138.9 in June according to recently released data from Reuters. It's an improvement over the prior month — however, that's still down 5% compared to June 2015.
Some sectors of business have been showing consistent growth, though. Construction was up 8% while Arts & Entertainment jumped 8.1% and Administrative & Support services increased by 5.9%
What do you think of this week's news? Are you leveraging video platforms like Snapchat and Facebook Live?