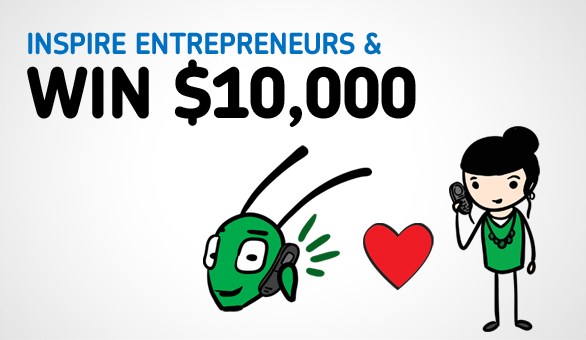 Are you a brilliant filmmaker? Do you know how to inspire? Then, we're looking for you!
We're on the hunt for an amazing video to inspire female entrepreneurs and what better way to create it do than by allowing entrepreneurs themselves to showcase their talents, get some publicity and earn $10,000?  There are so many talented people out there and we want to see what you've got.
Details:
What: Make a video to inspire women entrepreneurs to follow their passion and to start or grow their businesses.  Let them know they're not alone and there is a community out there of other women just like them starting and growing their businesses too.

When: December 17, 2011 at 7:48 PM EST to January 18, 2012 at 7:48 PM EST.

How: Be creative! You can use facts (sources needed), real female entrepreneurs, inspiring images, choose amazing music, use a strong speech -- whatever you think will make it awesome.

Where to Enter: Submit your video through the Contest app on our Facebook page.

Winner Announcement: March 1, 2012.  Note: we reserve the right to not award the prize if we don't absolutely love the video submissions.
Think you've got what it takes?  Read on…
Video Requirements:
Length: No less than 45 seconds and no more than 2.5 minutes.

Include our logo and the phrase, "See how Grasshopper empowers women entrepreneurs at grasshopper.com" at the end of the video.
Need some examples?
We're excited to see what you all come up with but before you begin, make sure to read our official rules here.