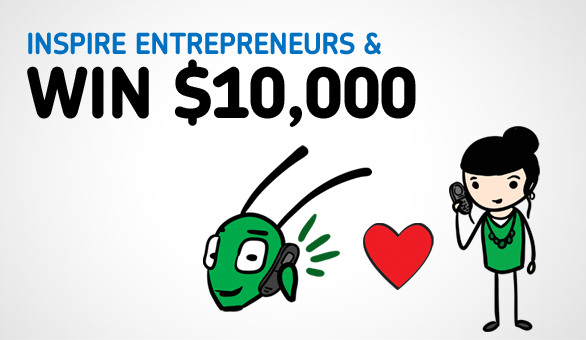 About a month and a half ago, we launched a video contest and asked you all to create a video to inspire women entrepreneurs to start and grow their businesses.  We were looking for a timeless video to inspire female entrepreneurs like the Jim Beam ad or our Entrepreneurs Can Change the World video. We launched the Entrepreneurs Can Change the World video back in 2009 and still see it being talked about and shared today.
To all those who took the time to create a video and enter our contest, thank you!  We were very impressed with what you came up with. We especially loved the personal stories.  The videos were truly inspiring.
The results:
After many tough conversations here, we came to the conclusion that no one video encompassed everything we were looking for.  Unfortunately what that means is we've decided not to award the $10,000*.
We would however like to recognize some of our favorite videos and thank these people for their time and effort. Over the next five weeks we'd like to feature some of our top videos and their creator's story on our blog. We'll also be rewarding our top 5 favorite videos with a $50 gift card of their choice. The passion in the videos is contagious and we think they deserve some time in the spotlight.
We'll also be reaching out to all other entrants individually, so expect to hear from us soon!
Here are our top 5 videos:
Ripple Effect by Mike Madsen

Sew Inspirational by Cynthia Smallwood

Do What You Love by Fergus Lowrey

Be That Difference by Jeremy Vo

Being an Entrepreneur by David Lehre
*Not awarding a prize was certainly not our intention. This was our first ever big contest and we weren't really sure what to expect.  We've certainly learned a lot about running a contest of this magnitude and appreciate your patience with us as we know a handful of people had trouble uploading their videos and that in the future, we need to be clearer about the rules and how the contest will work.
Update:
Our mission at Grasshopper is to empower entrepreneurs to succeed and our goal with this contest was to empower people to create a video that inspires other entrepreneurs to start and grow their businesses. The hope was that we'd find a video that fit our brand and that we could build a large campaign around.
The problem with a contest like this is, it's extremely subjective and although we received some great videos, we didn't find one that fit all of our wants, leading us to not pick a winner.
After listening to feedback and giving it some thought, we've decided to award the $10,000. While there was no one video that fit everything we were looking for, there was one video that encompassed a lot of it.
With that said, we'd like to congratulate David Lehre for his "Being an Entrepreneur" video and will be awarding him $10,000. David's video really showed what it means to be an entrepreneur and we thought it was very well produced.
Watch David's video: