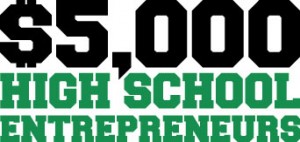 When we founded National Entrepreneurs' Day, we highlighted 4 things you can do:
1. Thank the entrepreneurs who've made a difference in your lives
2. Give grants, loans, or donations to those getting started or growing their companies
3. Mentor an aspiring entrepreneur
Pay it forward with services and goods that can help someone else
In the spirit of the 1st ever Entrepreneurs' Day tomorrow (Friday, November 19th), we're going back to our entrepreneurial roots in high school when we started our first venture.
So, 5 high school entrepreneurs will each receive the following:
GIVE: a $1,000 grant to help them launch or grow their existing ventures
MENTOR: We'll help with startup advice, marketing, technology, or general questions
PAY IT FORWARD: A year's worth of free Grasshopper, Chargify, and Spreadable service + free press/publicity help from our Ambassador of Buzz
How to apply:
It's simple. Nominate yourself (or nominate a high school student) in the comments below along with information about yourself, your venture, why you deserve this, and how you would use the grant. If you have a website or video, make sure to include a link to it as well.
DON'T include anything personal you wouldn't want to world to see.
We're looking for entrepreneurs who are passionate, take initiative, and have potential for success.
Deadline to nominate: Friday, December 3rd
The winners will be determined by the both of us.
Siamak & David Co-Founders of Grasshopper