As someone who's always had an entrepreneurial itch, most of my adult life has been spent working more than one job and wearing several different hats. Yes, I've washed dishes, filed patient folders, baked pastries, and worked as a Public Relations Manager. But I've also always had a side gig, too.
 In college, I started a successful online jewelry business. Once I landed my first full-time job (benefits and everything!) I added in some freelance writing and offered social media consulting. These side projects meant I was constantly busy and working late into the evening…but it never felt like work. It was exciting to see growth and be my own boss.
After a few years working a traditional 9-5 type job, I was ready for another challenge and wanted to take the leap into full-time self employment. For months, I researched, planned, and ruined the armpits of my t-shirts with nervous sweats. (Sorry, that was a gross overshare.)
But today, I'm proud to say: My side project is now my only project.
I want to share the process I went through before launching in case you're thinking about making the leap.
Fair warning: The planning and research stages can be intense. But if you're willing to put in the hours, creating your own path is definitely worth it.
Let's get started!
Part 1: Test The Waters
An entrepreneurial spirit is a great thing—but it also entails a willingness to take a certain amount of risk. I'm a pretty cautious person, so I first tested my business skills with just a small project (that was really more of a hobby) to see how everything worked.
Testing the waters with a small side project is a great way to get familiar with the technical side of owning a business (i.e. accounting, marketing, taxes, etc.). UE Jewelry was launched on Etsy in 2009 with a few pieces of handmade jewelry.
I quickly realized I was going to need to be more organized and strategic about this jewelry project (or else I'd go crazy). So, after three relatively successful months, I got serious. Here's what I did:
Wholesaling
I started purchasing my materials in large lots to cut costs. Instead of buying one of an item, I'd buy 30 to have plenty of them in stock. This also increased my profit margin by about 50 percent.
Inventory
With the larger amount of stock, I kept track of all of my pieces by putting them in a spreadsheet with quantity, what I paid for the item, what I charged for the item, and quantity sold.
Monthly Review
At the end of the month, I'd look at the inventory spreadsheet to see what items were best-sellers, which ones needed to be lowered in price, and which ones were not doing well at all. Studying these trends helped me decide what to order when I went to re-stock.
Promote
The Internet is amazing. Throughout the five years of running this side project, I spent less than $500 on advertising. Instead, I partnered with relevant bloggers for contests, item reviews, and outfit features in exchange for product from my store. My cost was minimal and the exposure was massive!
Estimated Tax Payments
Once I really started making sales, my handy CPA Mom (thanks, Mom!) advised me to start making quarterly tax payments on my earnings so I wouldn't owe a big chunk at tax time.  Having an accounting resource was essential to not pulling my hair out.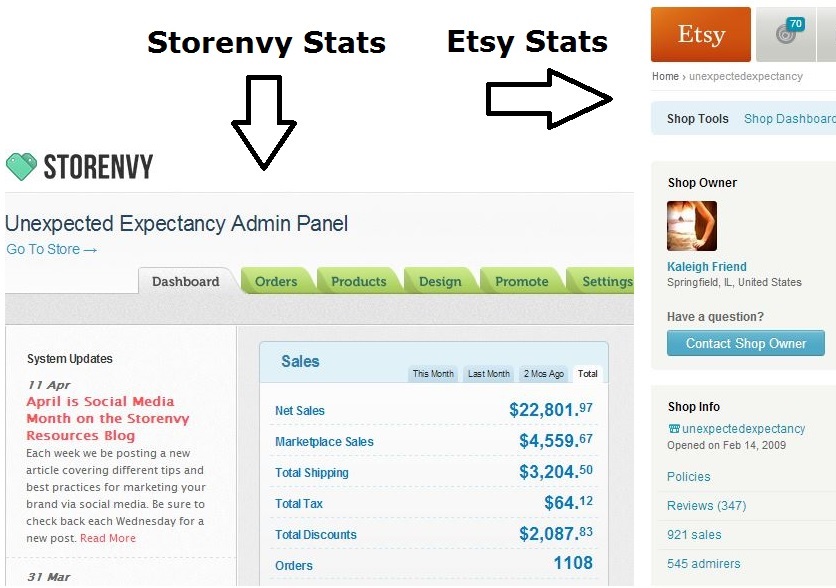 I switched to Storenvy in 2011 due to the Etsy fees and massive marketplace there—and I continued to see success on the new platform, which also allowed for greater customization of my storefront. As you can see from the stats, over the course of five years, I had 2,029 orders and about $40,000 in sales. This first experiment taught me the tools I'd need to start a full-time operation down the road.
Part 2: Planning for a New Business
After college, I took a job as the PR Manager for a non-profit. Being a part of the office culture there and sitting in on weekly meetings with the other management staff gave me insight on the questions managers face, and how leaders deal with directing the future of the organization.
I also had the opportunity to get experience with public speaking, interviewing with media professionals, and had room to expand and develop the social media presence there. Those two and a half years helped me discover what I loved (and didn't love) about traditional full-time work.
As time passed, I wanted a new challenge and some room to grow a business of my own. My husband and I started planning for a new business: Lumen. It would offer social media management/consulting, copywriting, and graphic design services. The idea was born.
Next came the planning, which meant…
Creating a business plan. Having this outline made us realize what we needed to be successful. I started with reading through the business plan structure here, and then crafted one step-by-step with LivePlan.
The business plan included:
Executive Summary (Summary of what biz is and its goals)
Company Description (What biz offers and how it's unique)
Market Analysis (Research on industry, potential customers, and competitors)
Organization and Management (structure/roles within biz)
Service Outline (Services offered and how they help people)
Marketing and Sales (Plan for getting the word out about new biz)
Financial Projections (Costs, projected income, plan for future growth)
Areas in bold show the parts that required the most research and time. These areas were also the most insightful, however, as they provided hard numbers and statistics for what success would look like.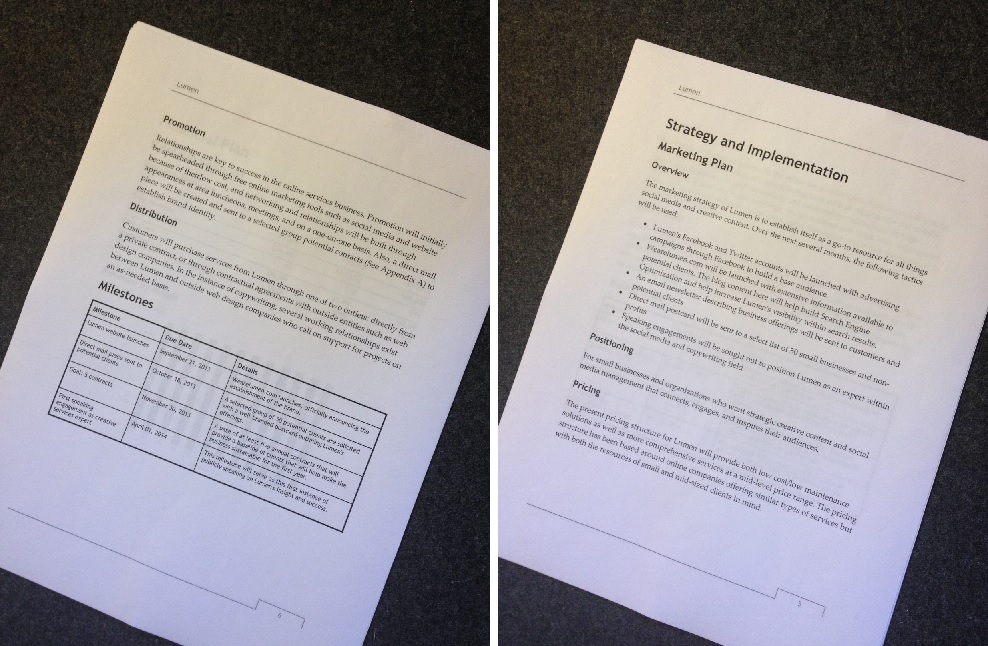 Pages from my business plan
Part 3: Launching
Once the planning was done and a foundation of regular work was established, I put in my two weeks' notice at the non-profit. Lumen officially launched in November of 2013 with a base of two core social media contracts and three monthly copywriting jobs. I would work from a home office, and my husband would continue his full-time job and complete his MBA, helping with graphics on nights and weekends.
But there were still a few more things to line up to ensure a successful business:
Establish a new retirement plan. Because I wasn't contributing to my 403b through the non-profit anymore, I needed to find a new solution (and make a financial plan) for my future.

Have a law resource. While the business would begin as a sole proprietorship, I wanted to have a lawyer I could call with any questions. Also, if I ever wanted to incorporate or become a LLC, I'd like a lawyer's assistance.

Get a new accountant. I love my Mom, but I wanted to have a resource that could dedicate work-day time to my accounting and tax needs. She also has a full-time job, so I needed to free up her evening time and remove the burden of the extra work. It just made sense.

Set a time frame. My husband and I decided to give this business an eighteen month time frame to succeed (or fail.) If after eighteen months we saw the business wasn't doing well enough, I'd find a new gig.

Find a business mentor(s). Because this was a new world to us, we wanted to have experienced entrepreneurs to call on when we had questions. We asked a few local business owners to be our go-to people—and they agreed!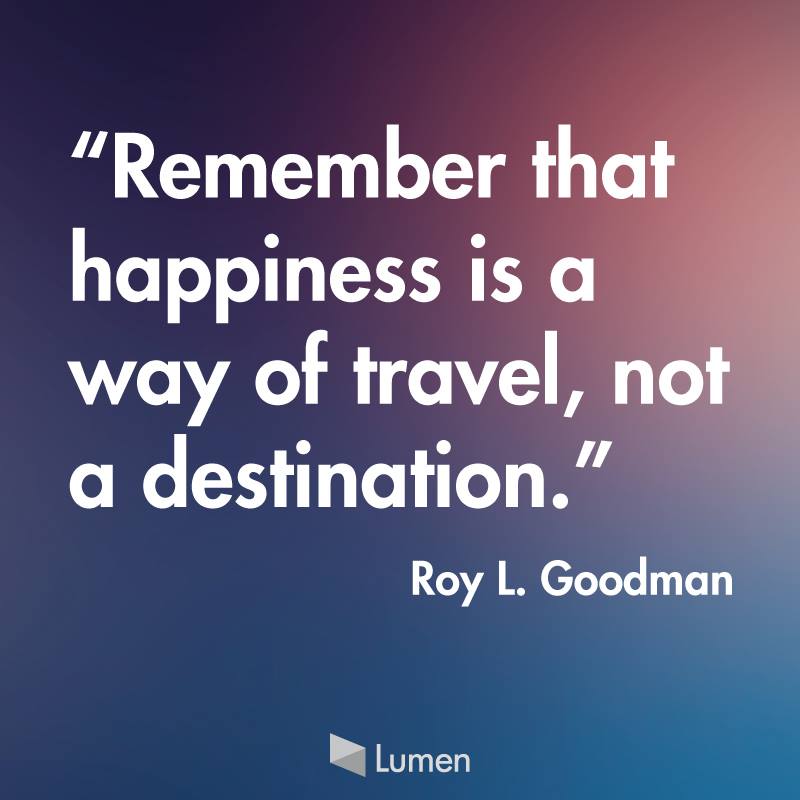 Lumen is currently in its sixth month in business, and we've experienced an increase in client work every month this year. Thanks to careful planning, some past experience, and the willingness to take on some risk (still scary sometimes!) the business continues on a positive trajectory.
Your Turn: I'd love to hear your questions and advice about starting a business, too. What do you want to know/share?