These next few days will be busy ones for the Grasshopper Buzz team.  On Wednesday, we will be at the NYXPO for Business in New York City and on Thursday, we will be at the Social Media Breakfast, as well as, meeting up with the Northeastern Entrepreneurs Club for coffee in Boston.
NYXPO for Business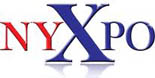 The NYXPO for Business is one of the largest B2B networking conferences in the Northeast, with a jam packed schedule of seminars and exhibits for attendees.  We are headed to New York to be one of four panelists in the "Techno Marketing: Using Innovative Technology to Grow Your Business" seminar.
Details
When: Wednesday, October 20, 2010 at 11 AM

Where: Room #3 in the Javits Center
On Thursday, the buzz team has decided to divide and conquer Boston.  Jonathan (@GrasshopperBuzz) will be hanging out with the Northeastern Entrepreneurs Club at a coffee shop in the Back Bay.  We are really looking forward to hearing what other aspiring entrepreneurs are up to, and sharing our best practices on building buzz around a brand with them.  Should be a great meet up!
As for Stephanie (@SRBullis), you can find her at the Social Media Breakfast.
Social Media Breakfast

The Social Media Breakfast is great opportunity to meet and interact with the social media experts, business leaders, marketers and other entrepreneurs in Boston.  There will be a few presentations as well as some great discussions around GeoMarketing and Location Based Services engagement.  If you haven't reserved a spot yet, there are still some tickets left.
Details
Will any of you be attending theses events?  We would love the chance to meet up with you!