We all know how important social media is to your company. Whether it's staying connected to your customers, updating friends & fans about the latest company news, or using it to promote your brand, there's a lot of value in social media particip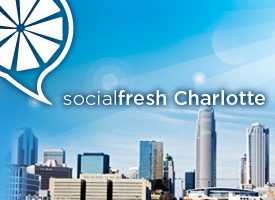 ation…if you are doing it right that is. Fortunately, there are conferences & events like Social Fresh that can help us make sure we are.
Social Fresh Charlotte is a one-day social media conference in North Carolina on August 16, that will feature various speakers talking about social media and providing us with their expert advice.
One of these experts is our very own Ambassador of Buzz, Jonathan Kay, @grasshopperbuzz who will be speaking about the use of web videos for marketing (think New Dork video).
Along with Jonathan there will be a ton of great speakers and great topics. Here's some more info on the event:
Who's it for?
Anyone who wants to learn about leveraging social media! Not just bloggers, social media consultants, or startups.
What kinds of topics will be discussed?
Topics include:
Turning social media into a company wide platform

Social media tools

Implementing a social media strategy in your company

Using social media for customer service

Web video for marketing

Product Demo

Keynote speaker Amber Naslund
…and more!
Who else will be there?
Other speakers include Social Fresh founder Jason Keath, Shawn McPike of AT&T, Blue Sky Factory CEO Greg Cangialosi, Open-First CEO Ted Shelton, and many other social media experts!
How do I register?
To register, visit the online registration site http://www.amiando.com/sofresh-charlotte.html. Hurry though...tickets are selling out fast!
Update
Check out some of the great recaps from the conference: