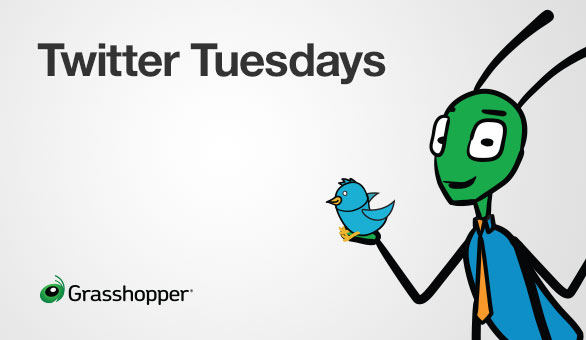 Twitter Chats are a great and easy way to connect with others who are working to sell, market, and promote their startups or small businesses. They're doing the same things you are, and they're talking about it!
A Twitter chat happens at a scheduled time, sometimes once a week, once a month, or once a quarter. By following a hashtag, Twitter users can ask questions and share their expertise on a variety of topics. This week, we've done our research, and we're bringing you a list of some of the top chats in marketing.
Need help marketing your business? Try a Twitter chat.
1. General Marketing, #mmchat
There's a lot to get a handle when it comes to marketing, from SEO to PPC to blogging to word of mouth. Join a group of marketing enthusiasts each Monday to discuss the best ways to get your business on the map.
Who hosts it? @TheSocialCMO
When does it happen? Mondays, 8 p.m. EST
Bookmark & visit our #MMchat Master Schedule to keep up on upcoming guests & review our 133 transcripts to date! bit.ly/I0H26M

— The Social CMO (@TheSocialCMO) February 24, 2013
Running an engaging, informative, and well-written blog isn't easy, so writers, marketers, and business owners gather together to discuss blogging in this famed Twitter chat. Blogchat is rumored to be one of the largest Twitter chats out there.
Who hosts it? @MackCollier
When does it happen? Sundays, 9 p.m. EST
Seeing lots of "How do I get followers?" #blogchat questions.Make interesting content, network w/ others in your field. — Aaron Hockley (@ahockley) February 25, 2013
Want more Twitter followers? Want to get Facebook Fans to like your posts? Check in with social media gurus Alan K'necht and Michelle Stinson Ross, plus their weekly guests, for a chat to discuss how you can bolster your social reputation.
Who hosts it? @aknecht and @socialmicheller
When does it happen? Mondays, 9 p.m. EST
A2a: TweetSeeker is my fav Twitter Alert tool for mentions & research. Topsy, SumAll, Postling, & NutshellMail. #socialchat

— Kevin Mullett (@kmullett) February 19, 2013
4. Content Marketing, #cmQs
Content marketing is hot, but is your business generating cool stuff? Brafton's #cmQs Twitter chats offer expert insights on content marketing challenges. Each session, moderated by Brafton, provides answers to questions about SEO, social sharing, media formatting, and measuring results.
Who hosts it? @Brafton
When does it happen: First Wednesdays of every other month, 1:30 p.m. EST (next one is April 3)
Live Twitter chat on content marketing challenges - #cmQs brafton.com/news/live-twit… via @brafton - My tweet was a favorite! Awesome! :) — Susan Cabezas (@susanjane) February 6, 2013
5. SEO and Search, #seochat
If you want your site to appear in Google or Bing search results, you best pay attention to the latest trends in SEO.  Jive with Panda, link building and keywords to make sure your business gets shown when internet users make searches.
Who hosts it: @SEOmoz
When does it happen? Thursdays, 1 p.m., EST
Content toward email: RT @ashbuckles Create assets like web pages, PDFs, ebooks, videos, posts, etc. to grow your email list. #seochat — Rivka Fogel (@FogelRivka) February 21, 2013
We're always looking for more fun and informative Twitter chats. Do you know a great one? Does your company host one? Please share in the comments, or tweet to @Grasshopper.