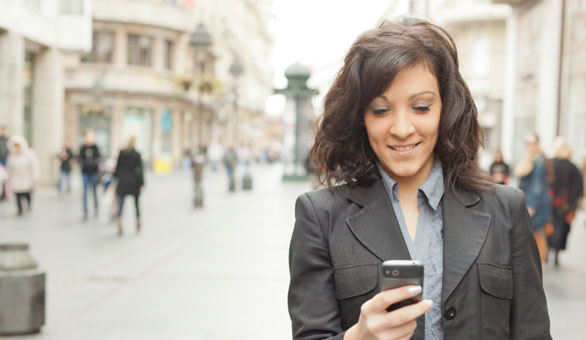 Many of us—particularly those who don't travel for business a lot—have a certain admiration for business travelers and mobile entrepreneurs. In fact, we often see frequent fliers as globe-trotting, jet-setting professional vagabonds.
But traveling for business is becoming more common, as many of today's entrepreneurs and small business owners spend much of their time on-the-go. That means more professionals are discovering the unpleasant truth about travel: it's not all mimosas and flight upgrades. It can be difficult, frustrating, and even mind-numbing.
Fortunately, business travel is getting better, thanks to technological upgrades, including tons of cool mobile apps. Don't let your next trip wear you out. Give some of these apps a try!
Here are five apps to make 'the road' a little smoother.
Even for the most seasoned of travel veterans, airports can be confusing. GateGuru is an application that takes your information—having you fill in your particular "journey" of the day—and spits out a variety of data to keep you informed and on time. It not only incorporates information on your flights, but also about the weather, local places to eat, and how much time you have.
Lucky you! You're traveling on the company's dime. Unfortunately, you may be responsible for filling out expense reports. Expensify can help you out, describing itself as "expense reports that don't suck." The app allows you to track all of your expenses without the monotony of data entry. Expensify works with you while you travel to ensure you can easily (and accurately!) track everything that you've been charging to the business.
Pulse
What they don't tell you about traveling is there can be a lot of downtime. Whether you're waiting for your plane to start boarding or your train to come in on time, you can get your favorite newspapers, magazines, blogs, and other media outlets all in the same place so you don't spend your time mindlessly surfing the web. It's a great way to turn your regular web habit into something a little more digestible – and time-friendly.
Being on-the-go means you don't have a lot of time to pause and smell the roses – or take really extensive notes. JotNotScanner fixes that problem for you by turning your phone into a mobile scanner that will "remember" everything you scan quickly and easily. And considering the app also integrates with PDFs, email, DropBox, and faxing, there's no reason you can't use JotNotScanner to save a whole lot of time on your next business trip.
Yes, you may be sick of the word "cloud," but you won't get sick of this app. If you've ever been traveling and wished that you could bring your desktop with you, then PocketCloud is an app you'll definitely have to consider. PocketCloud essentially creates a tether between you and your office (or home) computer so you don't have to bring everything on the plane with you. By serving as a remote desktop, PocketCloud gives you all of the convenience you're used to in an office setting and puts it all within the grasp of anyone who owns an Android.
And, of course, there's Grasshopper! Before you jet off to Los Angeles, Honolulu, or Chicago, make sure to forward your calls to your cell phone. No matter where you end up, you can always get your calls!
What apps do you find to be most helpful when you're traveling? Have you given any of these a try? What did you think? Please share your thoughts in the comments below!