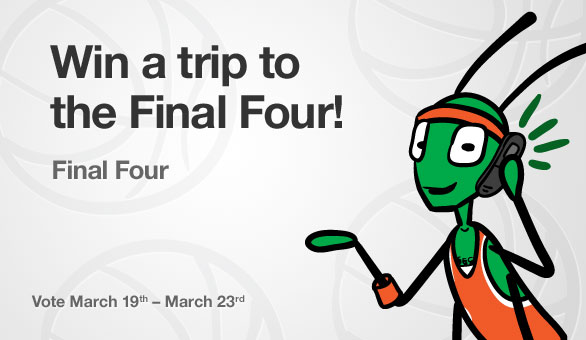 The results are in and we're officially down to four startup dream teams in our Take Your Dream Team to the Final Four contest. These four teams ended last week's Elite 8 round with the most votes.
The pressure is really on now as this week is the last round of voting! The team with the most votes as of Friday, March 23rd at 5 PM EST will win the grand prize of 2 tickets to both the NCAA Men's Final Four and National Championship games AND a 4 night stay at the Omni Royal Hotel in New Orleans.
It's up to YOU to decide which team wins the grand prize. You may only vote once (per IP address), so make your vote count!  Don't forget, anyone who votes is eligible for a chance to win 1 of 4 $50 Amazon gift cards so there's something in it for everyone!
The winners of the grand prize and 4 assists will be announced on Friday, March 23 at 6:00 PM EST on our blog.
Here are the Final Four teams:
Team 1: Uniblocker
CEO: Steve Jobs (Apple) Location: Bellevue, Washington Product type: Mobile app Funding: Angel Investment Exit strategy: Go public Pitch:
So you like balls of yarn? Oh, you collect them? Perhaps you were a cat in your past life? Either way, Road Trip Detour knows the real you. Next time you decide to take that long trip out west and pass through Kansas, RTD might suggest a reroute to Cawker City to experience the largest ball of twine. Based on your interests and hobbies, RTD alerts you as you're driving cross country of off the map attractions like that ball of twine that only you can appreciate, turning an exciting journey into a scavenger hunt. Capital is being raised in two stages, $500,000 in initial launch for Apple and then a round of expansion capital of $1-$3 million for Android rights. Our mission is to be the top app for 2012 and continue building on making those impromptu passions a realization. Go ahead, take a drive and see for yourself.
Team 2: Flyers
CEO: Gary C. Kelly (Southwest Airlines) Location: Washington, DC Product type: Web app Funding: Angel Investment Exit strategy: Go public Pitch:
Flyers is incredible unique and winning business idea. Flyers will create an application for the web to store all of your media as well as sync systems so that all electronic devices that have the necessary capabilities can have the multiple forms of media on them. Up until now Apple has been one of the only successful companies to sync multiple devices with an easy interface, yet many consumers have switching costs and may prefer to use a more socially responsible company. Flyers can make this happen. With a dream team led by Gary C. Kelly of Southwest, a known successful leader who consistently strives to outperform the competitor, there will be a unique, dedicated team of workers. Flyers will set a new standard and allow consumers more freedom of choice and force companies to innovate to gain brand loyalty.
Team 3: Save on Gas
CEO: Robin Chase (ZipCar) Location: Boston, MA Product type: Loyalty card Funding: Crowdsourced (Ex: Kickstarter) Exit strategy: Stay private and continue to rock Pitch:
We need to close the carbon externality, but that's off the table in Congress. Save on Gas lets users opt into a gas tax, deducting money from their checking account when you buy gas, and transferring it into savings. We need to save more and burn less gas; Save on Gas lets you do both.
Team 4: Pitch Squared
CEO: Peter Shankman Location: New York City, NY Product type: Service Funding: VC Exit strategy: Stay private and continue to rock Pitch:
With so many new startups struggling to get their word out, this will be the most accessible and effective tag-based pitching service. Wanna pitch to TechCrunch? The Washington Post? Michael Arrington? No problem, simply give us the tag techcrunch, WashigntonPost, Arrington, etc. and submit your story. As stories are received, we will invite reporters to claim their tag, and the respective stories associated with the tags.
Congratulations to the Final Four teams!  The fate of your team depends on public votes so it's time for you to get out there and get your team some votes!