With Mother's Day around the corner, we wanted to shine a spotlight on some of the moms out there who have helped encourage and empower their entrepreneurial children — who later grew into successful adults.
I talked to a few business owners who were thrilled to gush about the ladies in their lives who helped them get to where they are today.
A Coach and Mentor
Clay Hebert has a mom who, when his brothers started a band, was happy to encourage him to follow his interest and be the manager instead of playing an instrument.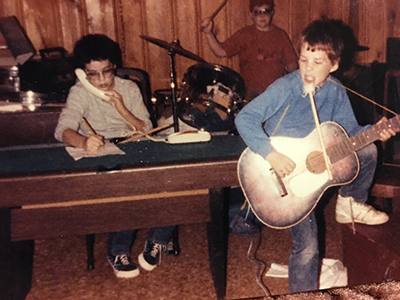 He said, "I wasn't the typical kid, but my mom always encouraged my entrepreneurial tendencies. When I was five, she'd walk me around the neighborhood to sell pizzas for a school fundraiser. She would wait at the end of the driveway to let me fail and then helped me refine my sales pitch in-between houses. A few years later, she would drive me to our local grocery store to sell candy bars for hours in the freezing cold Wisconsin winter. She knew back then that many of my ideas were crazy, and I don't think she fully understands what I do today, but she's always supported me 100% and told me that I could do...and be...anything I want. That's priceless."
A "Yes You Can" Attitude
Anthony Church says his Mom has always supported his entrepreneurial drive.
"My mother was always my biggest supporter. She instilled in me over and over again that I could do anything I wanted, be anything I wanted, and achieve anything I wanted. As an entrepreneur you need to be persistent and know how to work hard for long stretches (hours, weeks, months, and years). One of my mother's most repeated phrases growing up was "A quitter never wins and a winner never quits!" Thanks Mom!" he said.
The Gift of Perspective
Three cheers for the moms who show their kids there's another way to approach a career.
Entrepreneur Micah Rich said of his mom:
While my dad had a normal job growing up, my mother always worked for herself. I imagine a lot of people grow up not realizing it's an option to make your own hours, decide your own priorities, and make your own path. I think honestly just having that perspective the whole time allowed me make my own choices as I got older, and see how it's possible to do what you'd like to do.
Nurturing an Entrepreneurial Spirit
Ross Simmonds has a mom who encouraged his business-minded interests.
"When I was in grade 10, my mom took me back to school shopping and we had to make a pit stop with my sister at a local hair salon. At the time, doo-rags were all the rage but in my town there weren't many options as it relates to colors and styles. At this one salon however, I noticed they had every color of the rainbow and they were selling for $1 rather than the $10 at other shops. Rather than just buying one, I wanted to buy five so I could sell a few more at school. My mom encouraged me by giving me an advance in my allowance to buy 20 of them. I used this to start my first business, selling doo-rags out of my high school locker. From there, she continued to drive me every other week to the salon with no hassle."
A Teacher and Cheerleader
Writer Emma Siemasko gives props to her mom who still cheers on her creative spirit today.
"My mom isn't an entrepreneur herself. She's a teacher who's a fan of underdogs and believes strongly in giving to her community. My mom has always encouraged me to follow my dreams, and has never once doubted my capacity for entrepreneurial success. She's one of the most generous people I've ever met, and she inspired me to run my business with kindness, and to help others along the way. My mom has never dwelled on competition. Instead, she's intent on finding the little light in everyone and making it into a flame. The other thing I'd mention is that my mom is not afraid of re-invention. She went back to school when she was 45 to become a teacher. She never thought it was too late! I wouldn't be where I am without my wonderful mother."
Thank Your Mom for Supporting Your Biz Dreams
Moms that support their children's dreams and ideas are real gems, so if you have one of your own, be sure to thank her this Mother's Day and remind her how much you appreciate her on-going support. Without her, where would you be?
Tell us how your mom has inspired you to entrepreneurship in the comments below.