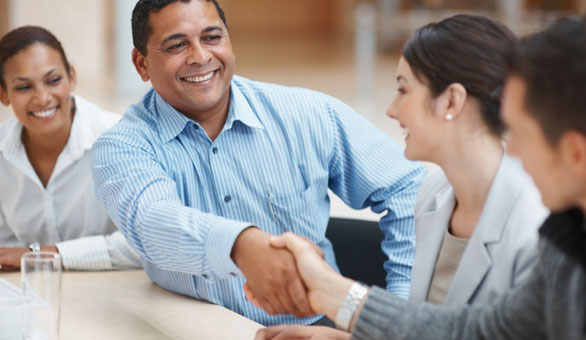 This is a guest post by Charlie Tribbett and Larry Baker, co-founders of [Bolstr](C:UsersacantyAppDataLocalMicrosoftWindowsTemporary Internet FilesContent.OutlookBP5426ELwww.bolstr.com).
Have you ever considered crowdfunding investment capital to grow your business? You may be thinking, "But, I thought that was only legal for creative projects looking for donations?"
Sure, that used to be the case but it's about to change in a big way. Crowdfunding has traditionally been a vehicle for individuals to pool money to fund creative projects with a social mission in mind. Over the last several years, this has proven to be a powerful method of fundraising. In fact, some donation platforms have already facilitated the raise of over $300 million.
Despite the success of crowdfunding, it has been largely inaccessible to businesses looking to raise capital from investors. It also typically consists of very low dollar amounts. Kickstarter is the largest donation based crowdfunding platform, yet 80% of successful campaigns on Kickstarter are below $10,000.
The good news is that the passage of the JOBS Act will create some very exciting opportunities. This new legislation will allow businesses to raise money by crowdfunding investment capital from people across the country. In effect, this gives individuals the opportunity to make actual investments in real businesses (i.e. the ability to earn a financial return), as opposed to crowdfunding donations for projects in exchange for perks**.** We believe that this new opportunity will drastically increase the amount of money small businesses are capable of sourcing and revolutionize the way in which small businesses access capital.
Unfortunately, it's going to take a while before the SEC is able to write the specific rules around this game changing legislation. That being said there are a handful of innovative entrepreneurs who have figured out a way to bring crowdfund investing to small businesses today. We would categorize these platforms into three main groups: donation platforms, broker dealer platforms, and other investment platforms that have figured out a way to operate ahead of the change in legislation.
Donation based platforms like Kickstarter, and Indiegogo have been very successful in helping creative projects access the capital needed to get their projects funded. Though they traditionally have been focused on artists, the new crowdfunding legislation may change that for folks looking to rally large numbers of people around their business or idea. Kickstarter appears to be uninterested in participating in this new investment regime, however it looks like Indiegogo and a few others are coming up with models that will address this new opportunity with a focus on startups and small businesses.
The second category of platforms represent a group that has chosen to register their platform as a broker dealer or to partner with a registered broker dealer in order to help businesses crowdfund investments from accredited (wealthy) investors.  With the broker dealer affiliation comes many restrictions that inhibit the ability for these platforms to offer a true crowdfunding experience. For example these platforms only allow accredited investors to participate (accounting for less than 2% of the American population), and most focus on larger businesses looking to raise $100,000+. One such platform is CircleUp, which has been effective in helping medium sized consumer businesses raise investment capital from angel investors across the country.
Finally, there are a couple investment based crowdfunding platforms that are in operation today ahead of the JOBS Act implementation. These platforms enable investment crowdfunding for small businesses and include non-accredited and accredited investors. At Bolstr we have built such a model through forming a new marketplace where individuals and patrons can invest in, and support local small businesses in their neighborhoods. We believe that small businesses deserve access to capital for operations and growth. Community investment not only gives a small business access to capital, but it also creates an army of local supporters financially motivated to spread the word and promote the business throughout the community.
Whether you are an artist looking to fund a project, a startup looking to source capital from angel investors, or a small business looking to invest in your businesses growth, there is a crowdfunding solution in operation today that can help you reach your goals.
Bolstr is the first investment based crowdfunding platform that helps entrepreneurs raise capital from people in your network and community, and easily comply with the regulatory system as it stands today.