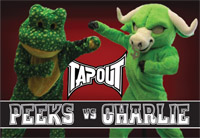 It's been almost a week now since the picture of Peeks vs. Charlie (on right) was leaked. What's this picture all about? That's the question we've been asking all week. We have FINALLY got to the bottom of this. The picture was leaked to stir up a bit of commotion surrounding an upcoming throwdown, a networking throwdown that is.
Join us for the Chargify vs. Peekaboo Mobile Networking Throwdown, Thursday, February 17, 2011 at 7:00 PM EST.
If you can't tell by now, this isn't your typical startup networking event. Watch two of your favorite Boston startup mascot's duke it out in the ring at TapOut Boston. Peekaboo Mobile's 'Peeks' will take on Chargify's 'Charlie' in a battle for true startup dominance.
Why should you attend?
The first 15 people who sign up will get VIP passes including ring side seats - you're gonna want to be up close for this type of action.

Narragansett has generously donated their finest beer for this event - who doesn't love enjoying a few 'Gansett's on a Thursday night.

Everyone who's anyone will be there - rub elbows with some of the Boston startup communities finest folks - you know who you are!

We'll even throw in some food from some local restaurants and keep you well fed throughout the event.

Participate in some fun contests for cool company swag - who doesn't love a good t-shirt.

And lastly, and MOST importantly - You don't want to miss this ridiculously entertaining event!
Details:
When: Thursday, February 17th at 7 PM with the main event starting at 8:30 PM

Where: TapOut Boston

Website: http://bullvsfrog.eventbrite.com/
Who will win? You'll have to attend to see!