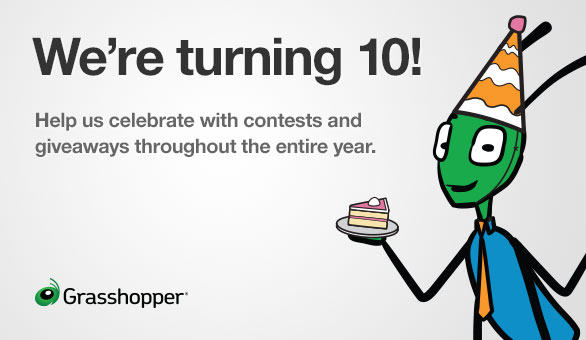 10 years ago, our co-founders David Hauser and Siamak Taghaddos met as undergrads studying at Babson College. Their business partnership blossomed nearly overnight and together they developed the beginning of what is today known as Grasshopper, the Entrepreneur's Phone System.
Over the past 10 years we've successfully petitioned President Obama to declare National Entrepreneurs Day and created an anthem for all the 'New Dorks' out there. We've inspired entrepreneurs to change the world and we've paid tribute to the woman pioneers and visionaries that have got us where we are today. Oh, and we've even poked fun at ourselves with our Sh*t Entrepreneurs Say video.
Throughout these years we've transformed our product, logo and even our name, but it's our core values, brand promise and our commitment to empowering entrepreneurs that has held true over the past decade.
We're committed to fulfilling our brand promise of being Ridiculously Professional, Extraordinarily Connected, Entrepreneurially Generous and Radically Easy. And we do this through exuding these fundamental core values:
Go above and Beyond – We strive to exceed the expectations of the people we work with and the entrepreneurs we serve.
Always Entrepreneurial – Being an entrepreneur means taking the initiative to find new and innovative solutions to daily challenges
Radically Passionate – Passion fuels our lives and ultimately paves the way to greatness. We create, evaluate, and innovate with pride and enthusiasm reinforcing our position as company ambassadors.
Your Team – Successful teamwork requires listening, sharing and keeping an open mind. Teamwork is achieved by leveraging individual strengths and overcoming differences to produce the optimal results.
What can you look forward to?
This year we're excited to celebrate our 10 year anniversary. We're so proud of the product that we've created and the service that we've delivered for the past decade.
Throughout the year we'll be celebrating our birthday like any 10 year old would do – lots of exciting prizes, giveaways and parties! You can look forward to some great content on our blog with posts highlighting a look at how Grasshopper has evolved, lessons learned, and other secrets from a 10 year old company, as well as some throw back post reflecting on the past 10 years of technology, pop culture and sports.
We hope that you'll join us throughout the year in celebrating this momentous occasion. Thank you for making these 10 years nothing short of amazing, we're excited for what the next 10 have in store!