A 'click here' hyperlink used to be enough to drive business online, but those days are over. With so many goods and services being sold over the 'net, web developers, designers, and marketers are scrambling to come up with ways to increase conversions.
In short, we all want people to be clicking, signing up, and buying as often as possible! But to do that, we need to understand user psychology and the basics of conversion.
At the heart of every marketing story is a human-to-human relationship, so if you want to increase conversions, you've got to connect with your users.
These 5 tips will help you along the way.
1. Understand user context
It's an understatement to say that the world is going mobile. Your customers aren't always accessing your site on their home computers. They might visit you while running at the gym, commuting to work on the train, or while waiting for an appointment at the doctor's office. With people checking you out from all corners of the earth, you've got to make it as easy as possible for them to interact with you.
Depending on your business, conversions aren't necessarily sign-ups or clicks. It might be easier for prospects to hop on a call than fill out a lengthy form on a 4-inch smartphone screen. If you're a local business like a restaurant or hair salon, you need to optimize your site for calls rather than online sign-ups.
Take a lesson from Starwood, one of the largest hotel chains in the world. The company has been doing mobile advertising since 2009. They've seen a 20-fold month-over-month increase. The strategy? Drive prospects to call centers to speak directly with a live agent. This makes it easy-as-pie for people to reserve rooms via mobile!
2. Tell a visual story
Design can dramatically impact how visitors process information on your website. You only have a few seconds to grab their attention, so you need to tell your story as efficiently as possible.
That's a lesson that Underwater Audio learned after running a visual hierarchy test on its website. The company, which sells waterproofed iPods, headphones, and other audio products, recently ran a test comparing two home pages: version 1 was a collection of information with no clear structure, and version 2 presented details in an f-shaped pattern.
After rearranging information to complement visitors' natural browsing patterns (the f-shape), Underwater Audio was able to increase sales by 35.6%.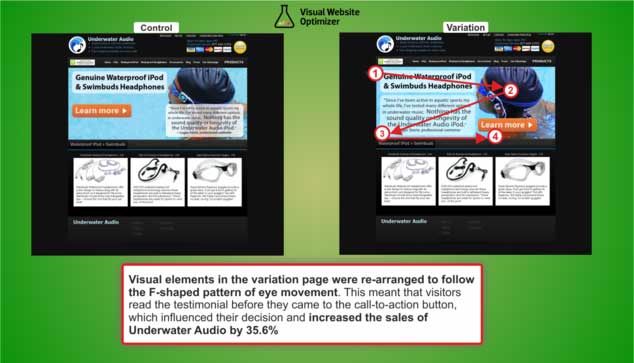 Remember that aesthetics are only part of the web design equation. Prioritize form and function as well.
3. Target your offers and messaging
This detail is critical for marketers who are actively running campaigns through social media, email marketing, and PPC. You need to understand the context of each user acquisition channel, and target your messaging accordingly.
Take the following example from Evergage:
Gardener's Supply Company, which runs a popular gardening website, was running a campaign to connect with users on Pinterest. The social media site was driving a high volume of interested visitors but not very many conversions.
Gardener's used a company called Evergage to target Pinterest-driven traffic with customized offers at exactly the right time. The result was a six-fold increase in lead acquisition from the Pinterest channel.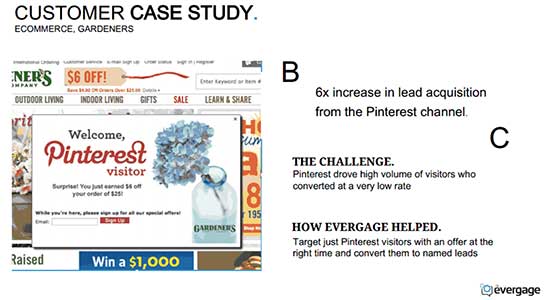 4. Build human interest
People are at the heart of many of our decisions-- that's why we trust Yelp reviews so much. We're drawn to experiences, pictures, and stories of other human beings. That's why pictures of people can help your brand appear more trustworthy, compelling, and down-to-earth.
When 37signals added a picture of a person to its Highrise product page, conversion rates went up by 102.5%. According to 37signals, the trick was to choose a down-to-earth, realistic person and not an awkward, cheesy stock photo.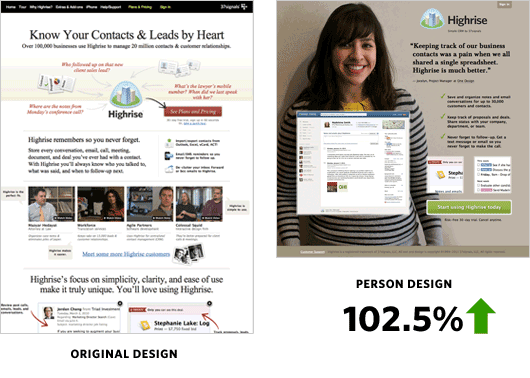 5. Keep a fresh perspective
Marketers and entrepreneurs are equipped with a rare gift of intuition and instinct, but we're also interested in testing different solutions to find out what really works. Be a skeptic. Trust your data. Go with your gut, but always test!
Have you made any changes on your website that increased conversions? What are your favorite conversion optimization tips? Please share!