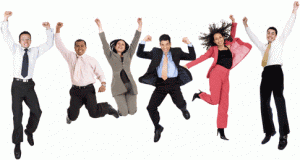 Customer retention is one of the key factors when it comes to running a successful business. Customers are your most important asset and it's harder work and more expensive to get new customers than to retain old ones.
There are a ton of ways to keep your customers happy, you just have to figure out what they are. One thing we do here is reach out to our customers on blogs, forums, Twitter, Facebook, etc. We even give our Grasshopper customers calls on their anniversary date to thank them for remaining a loyal customer. If you aren't sure what the best way for you is, here are a few ideas for increasing customer retention:
Treat Loyal Customers WellAll customers should be treated well but it's especially important to keep your long-term and particularly loyal customers satisfied. Offering incentives and discounts are great ways to do this.

Do your ResearchBelieve it or not, different kinds people have different levels of loyalty. For example, research has found married people are more loyal than singles and people reached through special interest groups are more likely to stay loyal to a company. Discover who you can effectively target and use it to your advantage.

**Interact!**You don't want your customer to forget about your company or let it slip to the bottom of their mind. Keeping in touch with customers is even easier today with social media efforts- request to be added to your customers' fan pages or follow them on Twitter!

Listen the Most When you Least Want ToOf course, you would rather listen to a compliment about your business than a complaint. Unfortunately, the complaints are the ones you have to address. If you don't address a problem a customer has with your service, or if you procrastinate with it then your chances of losing the customer increase significantly.

Follow UpJust because you think a customer is satisfied, doesn't mean they are. And even if they are, it's nice to feel like your company cares. Follow up with a personalized phone call to make sure they're satisfied with the service they received. It will make a difference in the way they think about your company- guaranteed.