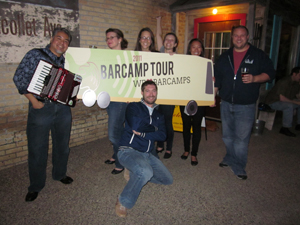 This past weekend the BarCamp Tour made a stop in Minneapolis, MN. MinneBar, as they call it, is the largest BarCamp in America and the second largest BarCamp in the world (second only to India!). Home to the Mall of America and a statue tribute to Mary Tyler Moore, Minneapolis also has a thriving tech community that welcomed us with open arms. Attracting over 1200 attendees, we thought we'd share some of the secrets to success of MinneBar and how other BarCamp organizers can make their BarCamps just as awesome.
1. Passion.
To say that organizers Ben Edwards and Luke Francl have a passion for organizing MinneBar is an understatement. For the past six years, these guys have poured their hearts and souls into growing this event into what it is today. Ben and Luke have mastered the balancing act of their 9-5 jobs, family and friends and found a way to negotiate vendor contracts, recruit sponsors and community supporters and throw ridiculously awesome events without a hitch.
2. Leverage local partnerships.
The MinneBar event was held at the Best Buy corporate headquarters – a perfect venue for this type of event. Big companies love to get the attention of small businesses and entrepreneurs and organizers are always looking for the perfect venue, so this is a win-win situation. Also, local companies love to support these types of events so reach out to your network before planning an event.
3.  Have something for everyone.
With over 60 sessions there was something for everyone at this BarCamp. The organizers kindly created a color coded schedule to help attendees easily identify the sessions they should attend. Not only was it easy to find the right sessions but there were so many to choose from in all categories including developer, design, startup and social media.
4. Ask for advice.
The MinneBar organizers are so serious about creating an event that attendees will enjoy that they actively seek advice for future events. In a session titled MinneBar at MinneBar, organizers gave an overview of past events and plans for future events while encouraging audience suggestions for ways to improve.
5. Be a connector.
When you organize an event of this caliber you begin to make more connections than you know what to do with. Your network becomes so large that you know almost everyone at your event. What better way to utilize this network than to make connections for other attendees! Connecting likeminded people or companies to help them form mutually beneficial partnerships, is much appreciated by attendees and also a very rewarding feeling for the organizers.
Are you a BarCamp organizer? Do you have tips for other cities? We'd love to hear them.