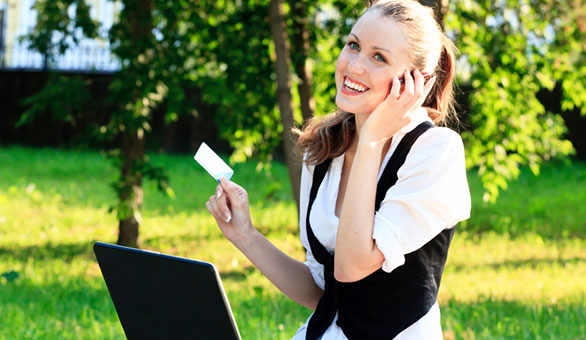 It's summertime! The kids are running through the sprinkler, you're spending weekends at barbecues, and the beach umbrellas are out. But, you know what that means for business ... the dreaded summer slump.
Customers are quiet and new ones aren't coming in as fast. People are on vacation. You can't blame them, but you still want to be successful through July and August!
It doesn't matter what type of business you run -- you are susceptible to such a slump. It's what you do when it happens that will set you apart from others in your industry.
For startups and established businesses alike, here are 5 tips for weathering the dreaded summer slump.
1.  Have an Annual Sale
Even the busiest customers will find time to visit your store or website if you sweeten the pot enough. Summer is a perfect time for a big, annual sale. But, don't think a flimsy 5 percent off will do the trick. Your sale needs to be good enough to truly entice. We're talking "best deals of the year" good - good enough to match what you offer over the holidays.
2.  Run a Promotion for Existing Customers
The summer is a great time to market to people who are already using your products. Try offering a free month of a particular service or a free upgrade to existing customers who stick around over the summer. Promote great deals that are exclusive to those who are already invested. Alternatively, you can launch a summer contest or sweepstakes to get customers' attention.
3.  Reach Out and Connect
Make use of your free time by reaching out to customers to find out what they're thinking about your products and services. Give them a call, write them a personalized note, or reach out via email. Figure out what features they like, how they're using your product, and what they'd like to see in the future. Few companies do this, so you're certain to make an impact. Handwritten letters, special gifts, and honest conversations are all powerful ways to connect with the customers you've already got.
4.  Create a New Joint Venture
Guess what? Most other companies are going through summer slumps, too. Why not reach out to a business with a similar customer-base and create a joint project or event? Whether it's a creative marketing campaign, a pitch to a larger company, or an idea for an event, joint ventures leverage the strengths of two companies to overcome the sales slump you're both slogging through.
5.  Undertake an Internal Project
While sales is probably top of mind, don't neglect your long gestating to-do list. The midst of a summer slump is the perfect time to revisit tasks and projects you've been putting off all year. Don't ignore the selling of your product, but give your team some time to work on extra tasks. Why not work on that website overhaul or the new marketing campaign you've been putting off for months?
Your summer slump doesn't have to be a bad thing. If you can maintain a steady flow of sales and find creative ways to be productive, you'll come out on top. Don't worry- fall will be here soon enough.
Are you in the midst of a summer slump? How are you overcoming it? Please share in the comments below!