Busy.
That's what your customers are.
As a local business owner, you've got to make it easy for customers to choose you.
Cupcake City, a little shop in Newton, Massachusetts, has made it super easy for me TWICE. The first time, they not only opened their doors after closing but gave me a free cupcake for my birthday. The second, they helped me out and gave me some birthday candles so I wouldn't have to do another errand.
Mostly, they've convinced me never to buy cupcakes from a large supermarket again.
Whether you run a bank, cupcake shop, or insurance agency, you can learn a lot from how Cupcake City does business.
Here are 5 ways to create long-lasting relationships with your customers that'll keep them coming back for more:
1. Build Genuine Relationships with Customers
A local business has a huge advantage over online businesses or huge corporate conglomerates—you actually see people face to face.
The first time I went to Cupcake City was on my birthday. The owner made some chit-chat and asked me what the occasion was. When I told him it was my birthday, he not only wished me a happy one, but told me "the cupcakes are on us."
I couldn't believe it! Of course, I told everyone I saw that day about my free cupcakes and the generosity of that shop. Plus, I felt extra special on my birthday and forgot that I was even turning 27 for a minute (yikes!). High five Cupcake City!
2. Remember the Little Things
Sure, you can always make comments to your customers about the weather, but it's the little things that build real relationships (based on trust!) Take it one step further from free discounts and think about the little details that keep cropping up.
When I visited Cupcake City to buy goodies for a friend, the owner asked what the occasion was. After telling him we were celebrating a friend's birthday, he gave me some candles for the cupcakes. It totally wow'ed me. I would've been happy to pay for them because it saved me a trip to another store. It immediately de-stressed me!
It costs a business next to nothing to keep a handful of candles on hand, and it saves the customer a trip to another store.
It's a small cost to you, but a HUGE difference to them.
'The lesson: When your customers have a bunch of similar options for where to fill up their car and buy beer, it's the little, remarkably simple things that help them make a decision.'
3. Work Around The Strict 9-5
Most people work 9-5. It stinks to have zero flexibility.
Fortunately, as a local business, you have the opportunity to stand out. You're not bound by 9-5 so you can be more flexible.
When I visited Cupcake City, the shop closed at 6:00 p.m. but the owner was still packing up cupcakes at 6:15. I went up to the door, tried to open it, not realizing it was closed. Just when I was about to turn around, the man opened up the door and let me in to buy cupcakes. He wasn't annoyed and was happy to serve me. Tell me the last time this happened to you!?
I thanked him profusely for letting me in. He told me he was new to the neighborhood and asked me about myself. I was new to the neighborhood too, so we had something in common.
And then, before I left, he gave me a coupon to come back another time.
4. Get People Through The Door
One of the biggest challenges for local business owners is getting people in the door. Once they're in, they're in. You can hook 'em for life, but getting them across that threshold is tough.
To get people into your flow, host free (or very cheap) events. For a little cost you can get foot traffic in the door, and thus sales, too.
Cupcake City hosts cupcake decorating events to achieve this goal. Michael's hosts cake decorating classes sponsored by Wilson's. For the decorating classes, you need to buy supplies – so obviously you're going to grab them at Michael's as you walk into class. And when you need more, you'll probably go back there. Win-win.
Here are a few ideas:
Local pet stores and puppy trainers can host the occasional free training class.

Toy stores can do story time for kids.

Pottery, sewing, and other artisan shops can host art classes on school break or in the summer.

Flower shops can host flower arrangement classes.

Personal trainers can host free running clubs.
5. Make People Feel Part of the Club
There's nothing people like more than feeling included.  (In fact, numerous psychology studies have proven that people depend on belonging.)
Local businesses can capitalize on this by creating secret clubs and menus. Making your customers feel part of your inner circle will make them feel included (and awesome! Everyone loves to be the one in the know).
Georgetown Cupcake tweets out a free cupcake of the day, and only offers a limited amount. Only people who follow the company on Twitter are hooked into the special. They're forced to order it by the special name, a name they can only get from the tweet.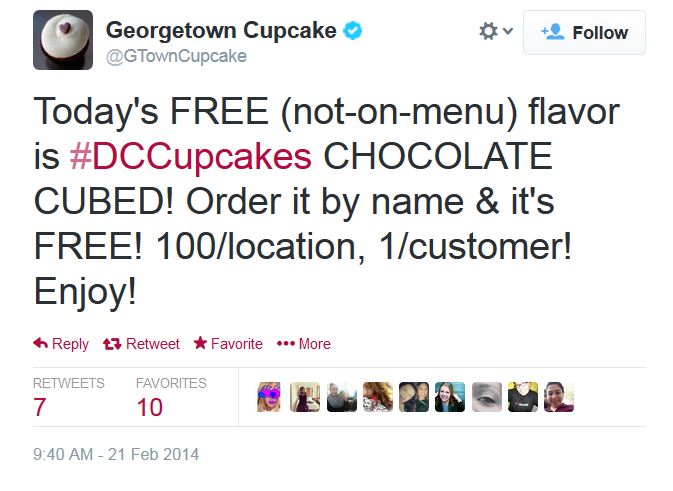 Be Your Best Self
My advice, as always, is to be human. Be your best self when serving customers—smile, be flexible, have conversations, and always be kind. If you treat your customers how you'd want someone to treat your kids, you'll be in good shape. 
Give it a try! Promise, it's not that hard.