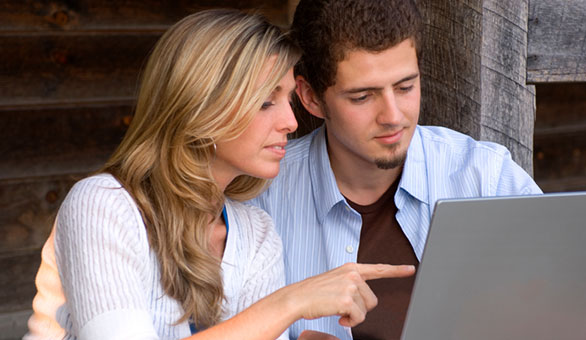 People judge companies and organizations by their websites. Good websites can lead to more business, while poor ones can scare potential customers away. In this day and age, there's no excuse for any company to have a crummy website.
Yes, it can be expensive to hire a team of developers to design a site and a huge time commitment if you build it yourself, but a great website is an essential investment. Think of it as an advertisement for your brand.
When was the last time you took a good look at your company's site? How would you rank it?
Here are five common website design pitfalls:
1. Design Flaws
The first thing visitors will notice when they visit your site is design. Are the images too big? Is the bright red color overwhelming? What's the ratio of text to photos? Can users find what they're looking for?
A design flaw could be a lack of color, too much text, or a confusing navigation. But it could also be very subtle, like typography. Jerod Morris of Copyblogger writes: "Think of typography like your website's voice, volume, and laugh." What does your font say about your brand?
2. Not Mobile Friendly
A recent study by Google showed that 75 percent of users prefer mobile friendly websites. That's because people are turning to the web more and more often on smartphones and tablets.
Ever visited a site that isn't mobile friendly? Maybe the text was garbled and impossible to read, or you were unable to scroll. Ninety-six percent of those surveyed said they'd come across a site they found difficult to navigate via mobile.
If you're creating a new site, make sure it's mobile friendly. If you already have a booming site, talk to a development team to find out what it will take to make a site that looks just as awesome on a mobile device as it does on the web.
3. No One Can Find It
You can have the nicest looking website on the Internet, but it won't mean anything if you aren't generating any traffic. Hmmm…How is that done?
There are a couple ways to put your site on the map, such as Pay-Per-Click (PPC) ads and features on other sites. Perhaps the most important method is search engine optimization (SEO). By taking advantage of basic search principles, you can ensure that your website ranks higher when someone searches for you. For example, if you sell equipment for musicians, it would be great to come up as the first result when someone Googles "headphones."
Don't know much about SEO? Read a beginner's guide.
4. The Message Isn't Clear
What does your company do? That's the first question users ask when they visit your site, and it better be answered fast. State what you do in a few simple sentences that even a monkey could understand. If visitors can't figure out what you offer, they're not going to convert!
A nice clear message or call to action near the top of the page can do wonders for the effectiveness of your site.
Customers will also want to know how to get in touch, so make sure contact information is easy to find. There's nothing worse than when someone wants to become a customer or client but can't find a way to get in touch with you. If they can't find a phone number, contact page, or email address, they'll quickly move on to another site.
5. It Slows Users Down
People want information and they want it quickly. Slow loading sites can prevent even the most excited potential customer from converting. If your site takes more than 20-30 seconds to load, a visitor is going to click away–they simply won't have the patience to wait around.
This can also be applied to the navigation of your website. Users are usually turned off it takes them forever to get the information they want. If it's hard to figure out how to get from one page to another, or there are just too many pages, you might lose some customers.
Another big mistake is repeating the same information on a number of different pages; your visitors will see it as a waste of their time and will quickly get frustrated.
Take a Look At Your Website
Some sites are sharp and user-friendly with bursting colors and a killer user experience. Others are confusing and ugly, leaving some to wonder what the company actually does, how much things cost, or how to get the information they need.  Take a good look at your website and make sure it's a star.
Other than these five things, what have you noticed about websites that makes them stink? What frustrates you when surfing the web?