There's no shortage of productivity and organization apps out there, but which ones really work?
Smartphones and tablets have made it easy to stay organized, but they've also brought on an onslaught of apps.
In this article, we'll take a closer look at 5 organization apps that people actually use to help improve their organization and productivity. Give these a try, and let us know what your favorites are.
1. Due for iPhone
Let's say you have something you need to do at a specific time, be it a client appointment or just a reminder to pick up your kid from tonight's game. Whatever it is, you need to be reminded not just once, but until the to-do is done. Enter Due for iPhone. With Due, you can set a reminder quickly, without cluttering up your calendar or to-do list.  Its tap-friendly wheel lets you scroll through your list and get stuff done in a way that's seamless, easy and most importantly, manageable.
Rescheduling is a snap too– no need to scroll through a bunch of settings. With its focus on supremely simple usability, Due reminds you, and can also send SMS reminders to your friends, so there are no excuses for being late.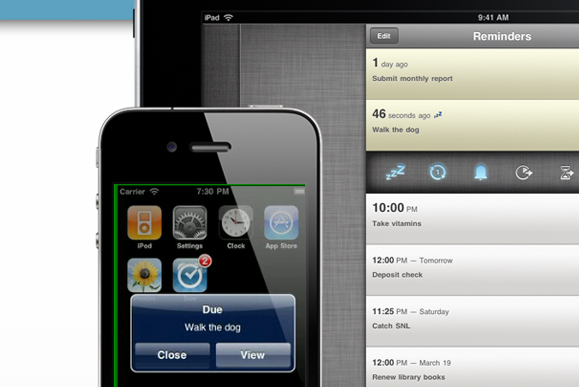 2. Rescue Time
What if you could see exactly how you're spending your time, plus get suggestions on how to improve your productivity?  Enter Rescue Time, available on the Google Play store for Android. Rescue Time will alert you if you've spent too long on a certain task ("too long" being a variable that you define), plus give you the highlights of your accomplishments throughout the day.
Rescue Time runs quietly in the background, cataloging your tasks and measuring how much time you spend on each one. It then identifies the days and times when you are most productive, and notes areas for improvement. Ever wondered if you're truly a morning person or secretly a night owl? Rescue Time will reveal the truth.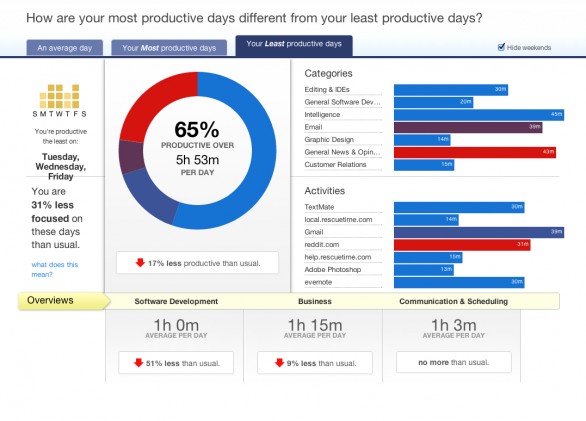 3. Doodle
Ever tried to host a monthly meeting at a time that's convenient for everyone? If you have, you know how frustrating and hectic it can be to schedule a date and time that works for all members of the group. Doodle is designed to help prevent that frustration.
With Doodle, your group members can pinpoint the exact dates and times that they're available. When everyone has entered in their information, Doodle displays it in a grid that shows the open time slots at a glance, so you can find and schedule the meeting at the perfect time without pawing frantically through your calendar or day planner.
The Doodle app/website combination has three pricing  tiers: a free account for individuals, a $39/month account for professionals (with a built in calendar) and a $69/month option for business teams. It's worth noting that the free version is ad-supported. The business version can be hosted on a subdomain with SSL encryption to prevent prying eyes from viewing sensitive company information. What's more, it can also be branded with your company's own design and color scheme. It also integrates flawlessly with Google calendar, Apple iCal, Microsoft Outlook and Lotus Notes.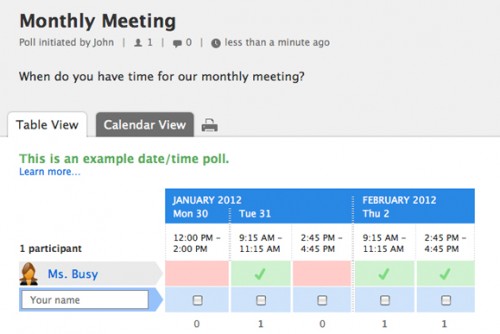 4. Mailbox for iPad
When Mailbox originally launched on the AppStore, the fanfare was so great that it had to create a waiting list. Some users had to wait weeks for an invitation; hundreds of thousands of users happily did so. What made this ordinary-sounding app so special?  It's simple – Mailbox would let you postpone certain emails until you were ready to receive them. Read certain messages later today? Tomorrow? Next month? No problem.
Mailbox's unique approach was so attractive that even popular cloud-based service Dropbox took notice – and bought them up. With the funding and coding muscle of Dropbox behind them,  Mailbox was able to address some common user complaints, including integrating the service with Yahoo mail and iCloud. Keep your inbox clean and tidy – once you try Mailbox, you'll never look at email the same way again.
5. ToDoist
ToDoist has been on the web scheduling and to-do list scene since 2007, but it has only recently caught up with the mobile world by launching both its iPhone/iPad and Android apps in 2013. If you're already a ToDoist user, all the regular features you'd expect are still there:  color coding, nested tasks and priority scheduling to name a few.
With over 2 million users, ToDoist is no newcomer to the to do list scene, and its feature list is far too extensive to go into detail on here. Most recently, it launched a Gmail plugin that integrates flawlessly with the service, so you can get more done with your email as well as your daily life.
Whether you're managing a website, organizing a charity drive or working on your doctorate, ToDoist will help you get it done with minimal fuss.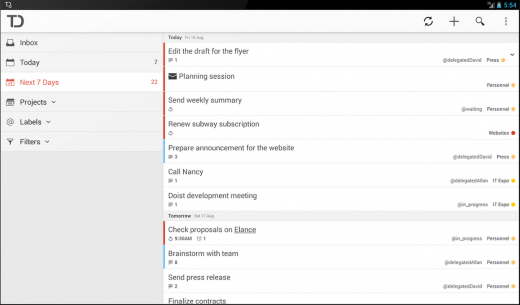 Do You Need Time Management and Productivity Apps?
These are just a few of the many organization and productivity apps out there – but they're the few with quite a devoted following of users. Of course, any app or web-based service is only as good as the willpower of the person using it. If you struggle to even find the time to update your to-do list or manage your daily tasks, an app will not change your life overnight.
If, however, you're willing to put in a little time to explore all the simple, straightforward features and put the app to use in your daily life (as well as find out when your most productive times are), you'll find that you steadily begin to get more done, schedule more efficiently, and organize your time in a way that works for you, as well as your fellow group members.
That being said, we'd love to hear about your favorite time management and organization apps.
Your Turn: What programs can you simply not live without?  Share your favorites with us below in the comments!