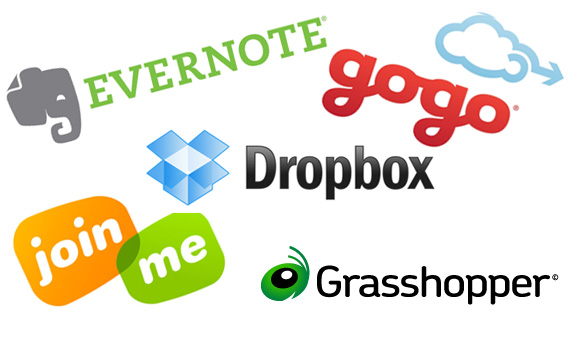 The holidays are a crazy time for everyone, with travel, kids home from school, vacations and more it can be hard to get things done.  A break is nice and all, but unfortunately you just can't put your business on hold during the holidays.
Since things still have to get done, we put together a few tools we think are great for running your business when you're on the go.
1. Gogo
For those of you who are forced to hit up the airports during one of the craziest times of the year, make sure to put Gogo on your to-do list before boarding that airplane.  Gogo has plans ranging from $4.95 for up to 1.5 hours to $12.95 for 3+ hours and will keep you connected so that you can be in the air and online, making that dreaded flight productive.
2. Dropbox
Dropbox gives you access to your documents and files wherever you are, allowing you to collaborate with your team when you're traveling. One of the best parts about Dropbox is that it works even when you're offline and don't have an internet connection.  With this tool, you can easily share and send documents or large files to your co-workers and clients, so you don't have to worry about holding up deals when you're traveling.
3. Grasshopper
This one is a given.  Grasshopper was designed specifically for entrepreneurs on the go. With just a cell phone (or any other phone line for that matter), you can run your business from anywhere --airport, in-law's house, hotel room, or the beach, it doesn't matter. Grasshopper allows you to take your calls and meetings, without having to be tied down to your desk and you can even get your voicemails via email so you can decide which calls really are worth taking during that once a year vacation of yours.
4. Join.Me
Join.Me is a great free tool for when you need to collaborate on a project but just can't seem to explain it over the phone.  Join.Me makes screen sharing super simple.  All you have to do is go to their site, click the big orange share button, and tell you're co-worker (or client) the address at the top of your screen.  This is a fast and easy way to get things accomplished remotely with your teammates back home.
5. Evernote
Evernote's tag line is "Remember Everything." – With a tagline like that you know this tool is awesome (since I can't manage to remember anything without writing it down).  It was also just nominated as company of the year by Inc. Magazine. How could this tool not be on our list?
Evernote works great as an on the go to-do list (for those of you who can't function when you forget your notebook at home J) but it can also be used as much, much more.  You can use it to keep track of employee performance, as an electronic filing cabinet and even to remind yourself of that bottle of wine you liked while you were away.
These are just a few of the amazing tools out there that help you run your business remotely.  We took to our Twitter and Facebook pages to see how our fans and followers run their businesses when they're travelling.
Here are a few responses: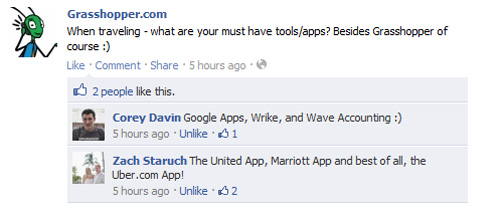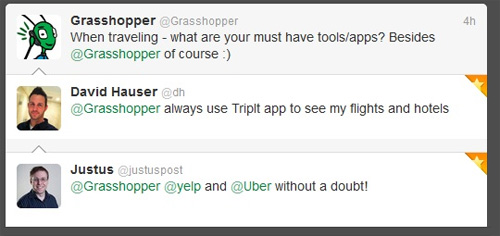 Now, it's your turn to add to the list! What are your must have apps or tools when you're on the go?