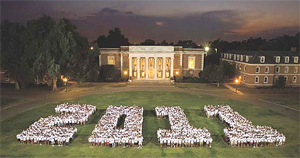 Over at Grasshopper Group there's a great post on how to stick to your 2011 resolution of starting a business. We included several tips including "Think big", "Think small", "Keep your resolution every day" and finally, "Hold yourself accountable".
One of the tips under "hold yourself accountable" is to actually do something for your business. Doing something or even buying something tangible can help motivate you and make the process more real.
Below we've outlined a few low cost actions that can help you get your business going this year:
1. Register a Business Name
You've probably thought about what you would call your business a million times. Now it's time to take action and actually register it. You want to make sure it's available and also protect it. Here are a couple of resources to help you:
Registering Your Business Name

Register Your Business
2. Create a Logo
A website can be an expensive way to start, so let's begin with a logo. You may not be a designer but there are a number of freelancers out there who can help and aren't terribly expensive. Check out 99designs.com, Logoworks, Logo Design Guru or ask around, you may know someone.
3. Purchase a Domain Name
A good domain name is imperative. It will go in your emails, on your business cards and more importantly, its how potential customers will find you. A good domain name should be short, describe your business, be easy to remember and a .com. SEOMoz has a great post, "12 Rules for Choosing the Right Domain Name" you can check out.
As for domain providers, there are a number out there including the most popular GoDaddy, Network Solutions & Yahoo.
4. Get a Phone Number
Starting out you will most likely use your cell phone the majority of the time. But let's be honest, your current voicemail message probably doesn't really sound all that professional for a business. Plus, do you really want to put your cell phone number on all of your business materials? No.
A dedicated business phone number is a great way to go and it's cheap. You can lock down a toll free numbers or local number for $9.95 a month, which includes call forwarding, voicemail boxes, custom greetings and more. You can still get your calls on your cell phone but no one else has to know that.
5. Print Business Cards
You don't have to print a ton of them but why not get a few? It'll feel good to see your name and company on a real business card and can act as a motivator. You can get them fairly cheap from a company like VistaPrint or PrintingforLess.
Make it happen
This year, don't just say you are going to do it, go do it. Starting a business is a big endeavor so focus on doing one thing at a time. Make 2011 the year you stick to your resolution!