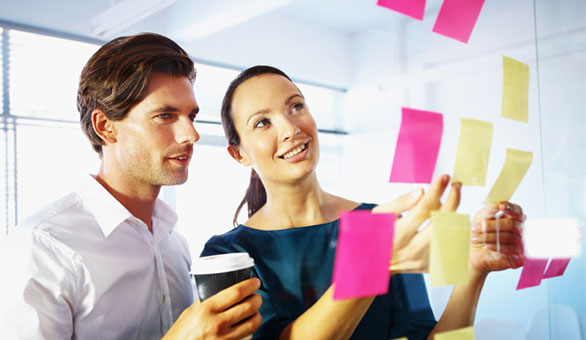 Thanks to today's technology, marketing your business has never been easier. You can run instant analytics on online advertising campaigns or create massive customer lists that can be managed with just a click.
But what about tried-and-true marketing techniques? Do they still do the trick?
If you're looking for an edge over your technologically-savvy competition, it may be time to try some old school tactics.
Don't get us wrong -- you should still work on your email marketing campaigns -- but consider peppering in these five forgotten ways to market your business.
1. Billboards and Signs
Drive through any small town or on any highway and you're bound to see a parade of signs for businesses. Why not join in?
A billboard in a busy area could be a great way to market your company, even if it's only up for a short time. It can help keep your business top of mind so that when it's time to make a purchase, your customers will already be familiar with who you are.
But it's not just billboards, it's signs. If you have a business located in a high-traffic area, you've got the potential to show off your stuff when people are on their morning commutes. A presence in the neighborhood will appeal to customers interested in buying from a local company, one that's right around the corner!
2. Flyers
Ok, ok, you're not a babysitter looking for a weekend gig, but you can still benefit from old school flyers. There's something very honest and direct about a piece of paper in a local coffee shop, gym lobby, or library. This sort of marketing is non-intrusive, but still catches people when they least expect it. If someone needs a mover and sees your flyer at the local gym, they're likely to give you a call or shoot you an email.
Flyers are a common way for businesses to market themselves on college campuses. By plastering common areas with fun flyers, these businesses make an impression on their target audience.
You have little to lose by investing in a few quality flyers, especially if you're a local business.
3. Snail Mail
Sending direct mail is a great way of getting the word out, but it gets expensive fast. Don't worry -- you don't have to pull out all the stops to make an impression with snail mail!
Instead, remember that good old-fashioned mail is a great way to market to existing customers. Thank you notes, small gifts, and funny surprises are a sure way to get a customer's attention (and break up the monotony of sifting through bills!)
This form of direct mail will make customers feel special and valued. Who doesn't want that!?
4. Branding Company Vehicles
When you're driving to and from the office or around your hometown, you probably see a ton of branded vehicles. Trucks, vans, and regular cars often tout a company name. It's common to see service providers such as landscapers, plumbers, and movers with branded vans.
It's not difficult to brand your company vehicle and the benefits last as long as the car is on the road. Find a local company that specializes in logos and decals to get the job done. Be creative with words and design, as you can entice a lot of attention on the street without doing much work at all.
Don't forget to include your company phone number and a URL that's easy to remember!
5. Old-fashioned Networking
If you really want to have a great impact on potential clients and people in your industry, there's nothing that beats effective networking. Even the most seasoned of business veterans enjoy making personal connections. Go to conferences, trade shows, and other events to meet potential business partners, customers, and friends. Talk about your company at parties and social events to gauge interest.
Old-fashioned networking is aided by technology. Sites like LinkedIn and Quora can help you connect with others who share your interests.
Marketing a business is tough stuff, especially when you're just starting out. Technology offers a ton of options, but traditional techniques can still work magic for small businesses.
What are other forgotten ways to market a business? Are there any that you use? Please share in the comments below!